Outdoor Weddings & Wild Elopements
Outdoor eco-friendly and low impact wedding ceremonies!
Welcome to this guest blog from Jo and Patrick of Enchanted Brides and Cornwall Elopements, focusing on outdoor, low-impact weddings and wild elopements to give you a better understanding of what to consider when planning your unique outdoor celebration. Discussing topics like" Can I get legally married outdoors?" "What do I do if it's raining?" "What to wear to keep safe and comfortable?" and a few more.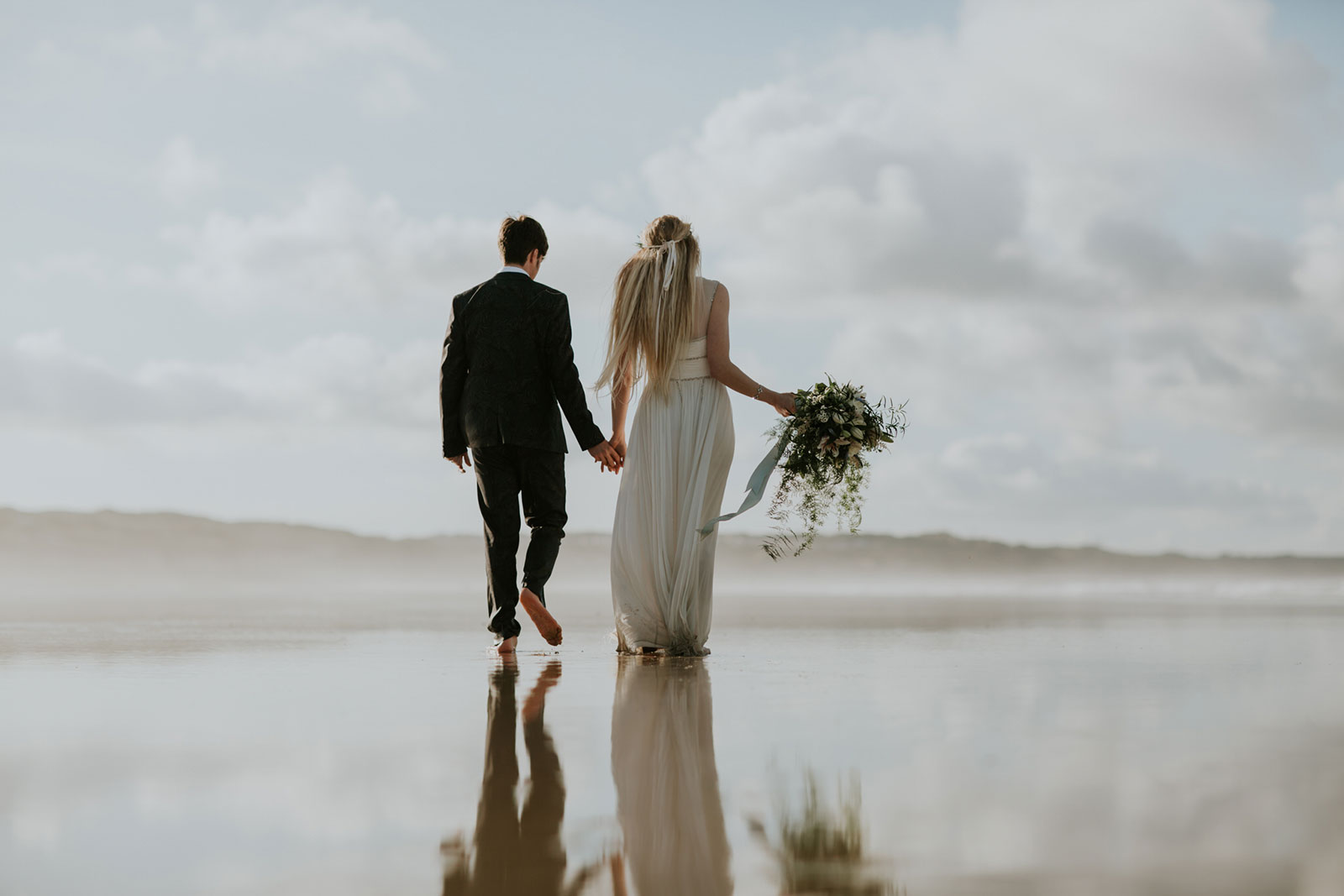 Does the idea of an outdoor wedding ceremony in Cornwall excite you, but you're not sure where to find help with your planning?
We will try to answer all the common questions you may have about your outdoor wedding or wild elopement. We hope to guide you all the way, from planning right through to enjoying and celebrating your perfect outdoor wedding day! With so many incredible wild locations in the South West of Cornwall, a Wild Wedding Celebrant is a must to conduct your outdoor ceremony.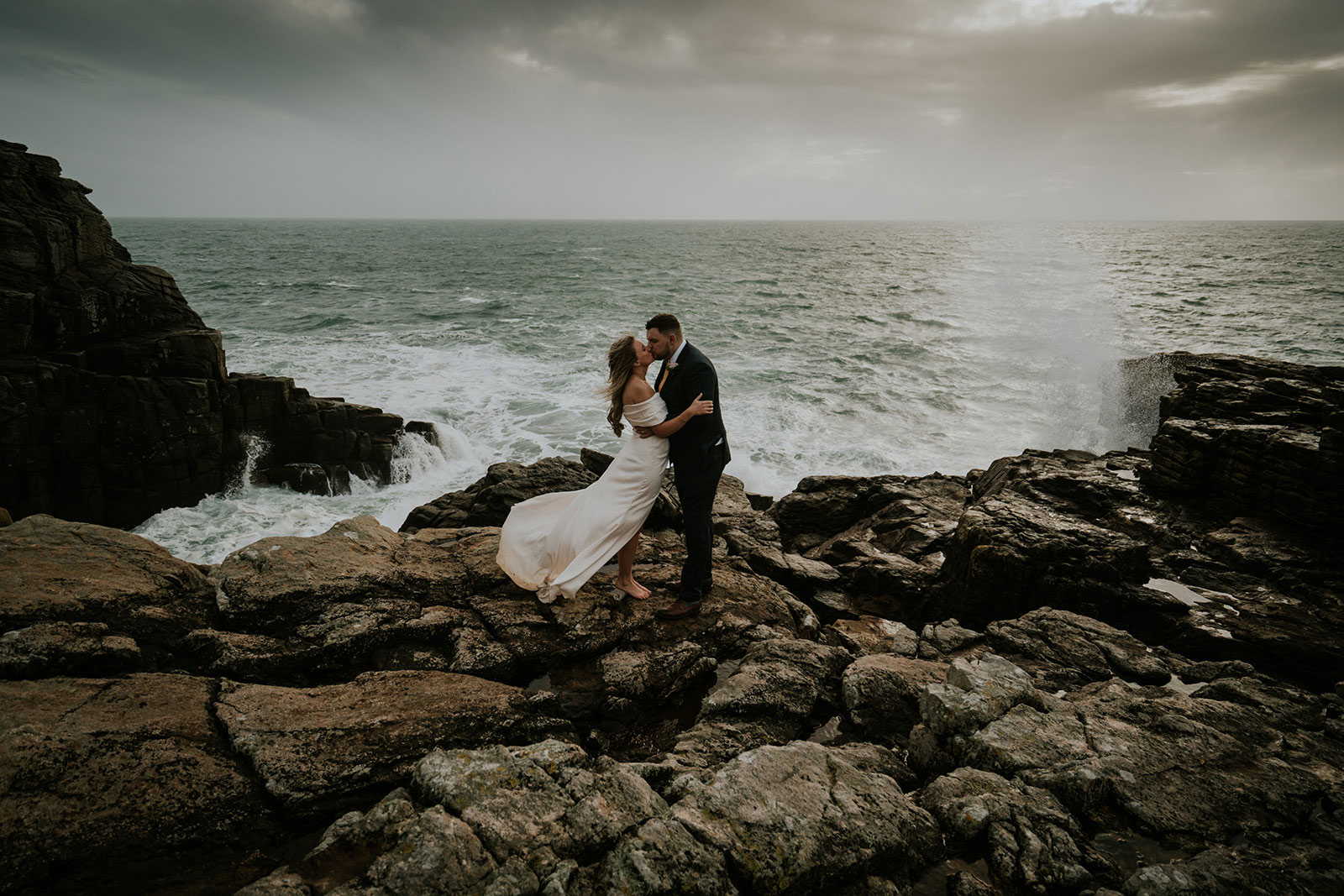 Celebrant-Led Ceremony
We work closely with Wild Blessing Ceremonies offering you a creative ceremony written especially for you. A Celebrant-led ceremony is not legally binding; the legal ceremony and signing of the register can be done before or after your celebrant led ceremony. By separating the legal aspect of marriage from your wedding, your ceremony can be about you and your love story, not legalities.
If you are eloping and want to legalise your union, the best option is to have the "simple, no-frills ceremony". This takes place in the Registrars office itself. It's a straightforward and affordable process to become 'legally' married, costing about £60 depending on your council, freeing you up to think about your unforgettable celebrant-led ceremony with Wild Blessing Ceremonies.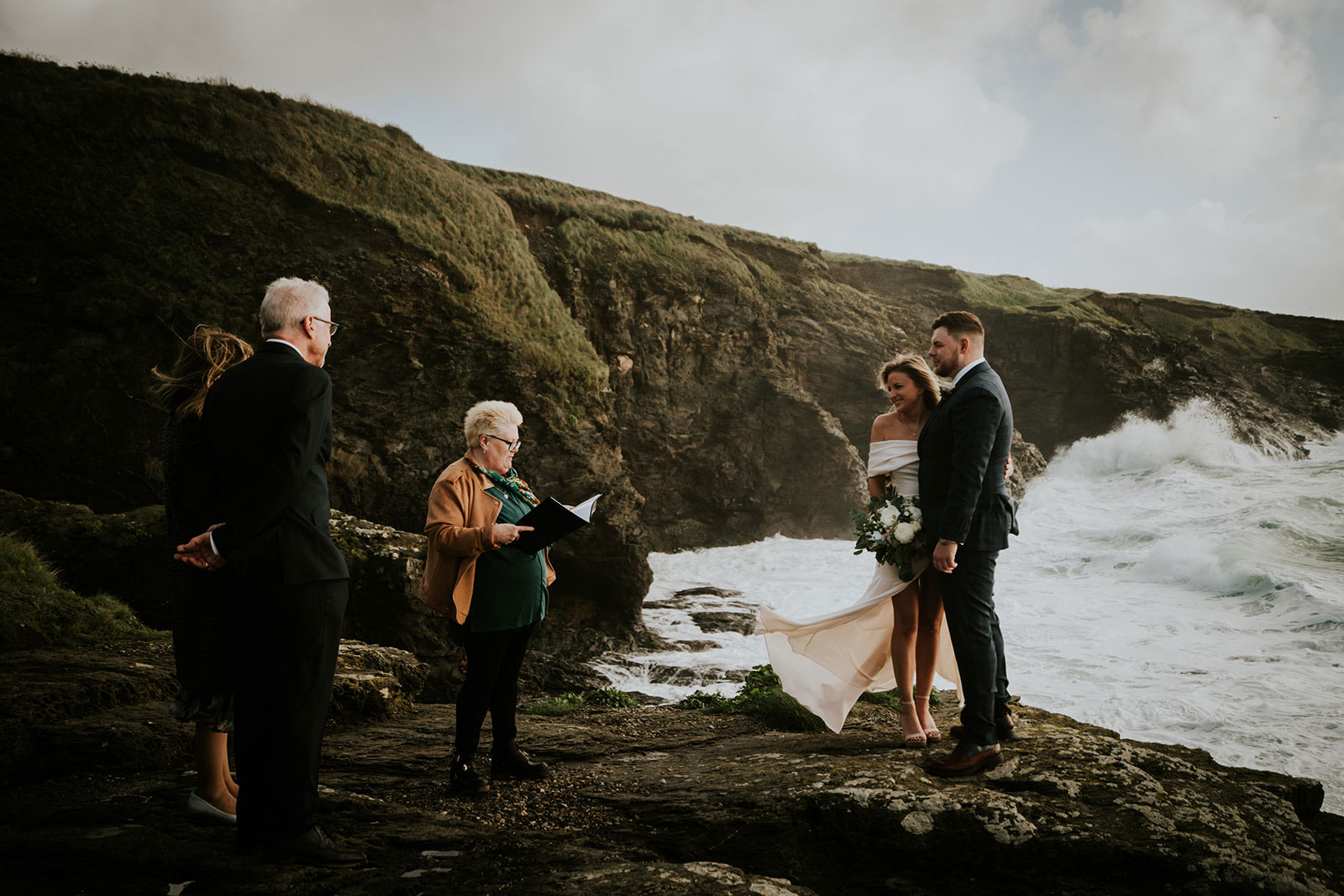 Here are some more guidelines and things to consider when planning your outdoor wedding adventure!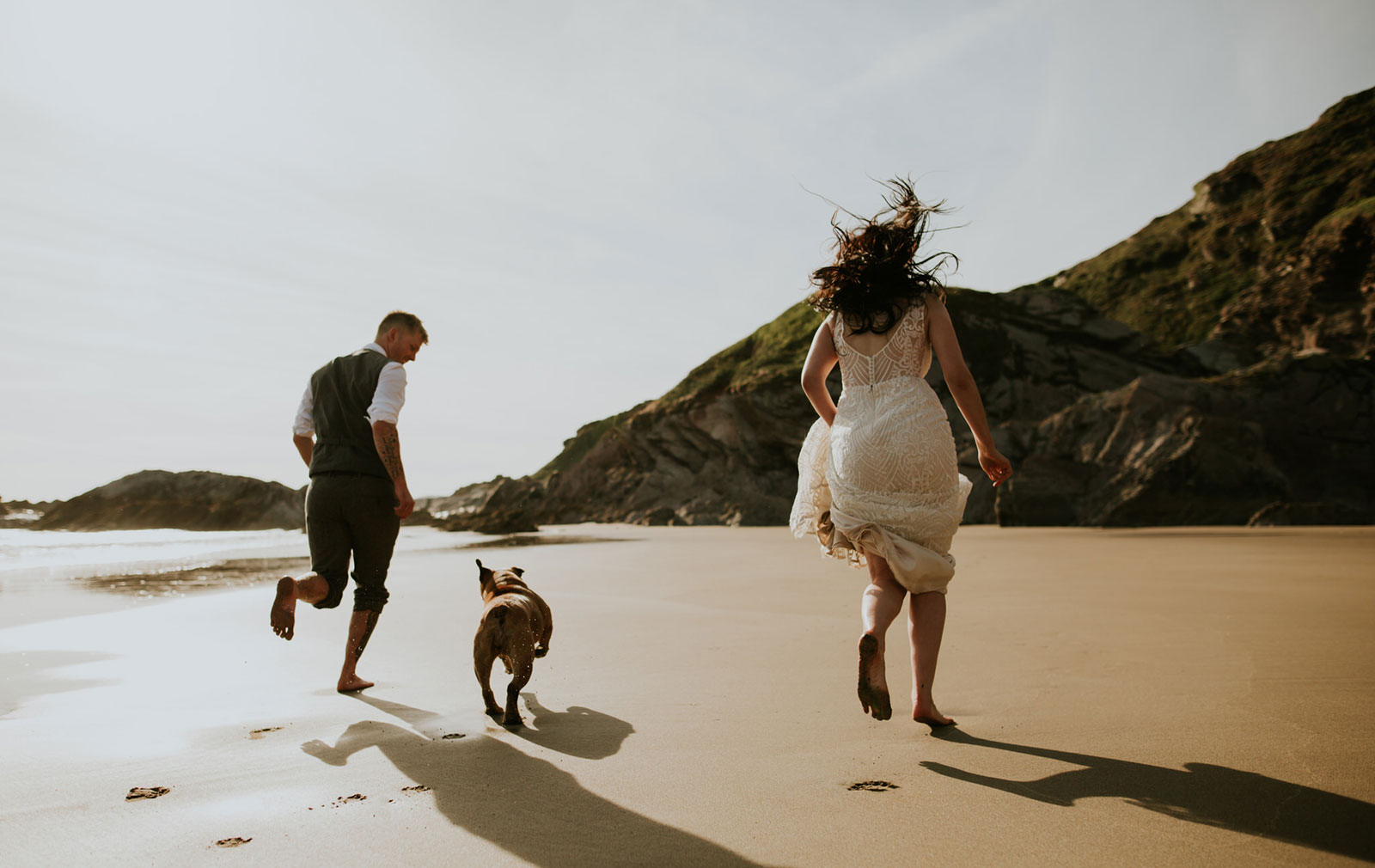 Budget
Eco-friendly and low impact elopements and intimate outdoor weddings are cost-effective and also perfect for couples on a budget. You can save yourself money by just hiring a photographer and a celebrant to conduct your ceremony. If you are looking for an elopement venue, we would recommend Boho Cornwall, Beacon Crag and Pengersick Castle.
Location
The first thing you need to consider is where you will be having the ceremony and second, the time of the year. The summer is extremely busy in Cornwall. Having your beach wedding in Cornwall in August on Perranporth beach might not be ideal if you are looking for a private and intimate ceremony without thousands of people watching you. We highly recommend using less popular places, like cliff top locations in the summer months, as you are less likely to be disturbed by tourists. We have many secret spots that we can recommend to couples not based in Cornwall who want privacy and dramatic views. You will also need to consider that if your ceremony is at sunset, it is best to check where the sun sets and you are in the right place to see it. Some coves will be darker earlier as the sun might set an hour earlier because it goes behind the cliffs.
We have spent years exploring this area to offer something totally unique and different for our adventurous couples; here are just some of our absolute favourite outdoor locations:
– The Stone Circles and Ancient Sites in Cornwall
– Sea Cave Ceremonies
– Mines, Ruins and Old Cliff Castles
– Secret Beaches and Hidden Coves
– Ancient Woodlands and Forests
– Milky Way, Stars and Full Moon Ceremonies
– Wild and Dramatic Cliff Top Locations
– Twilight Fire Ceremonies on the beach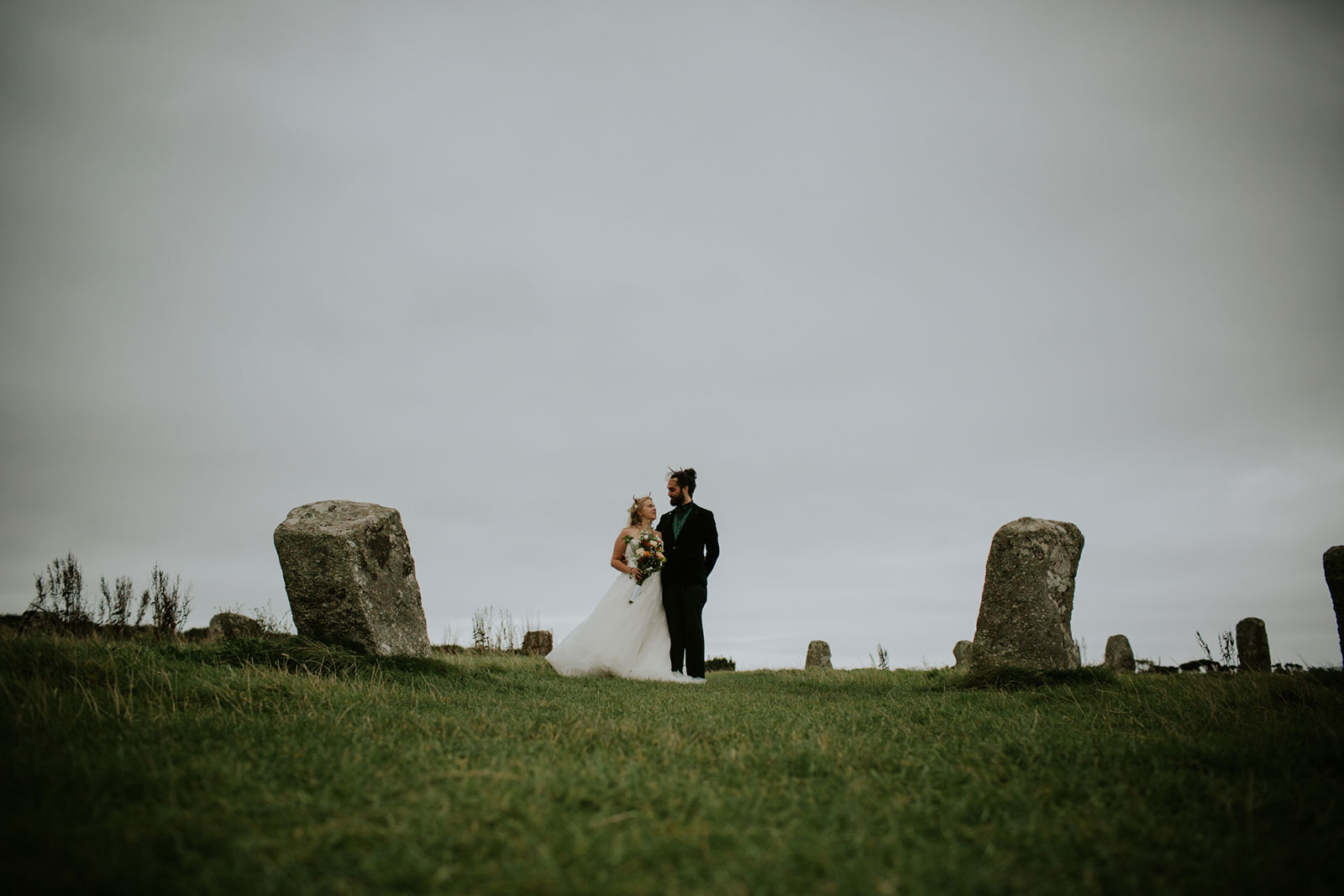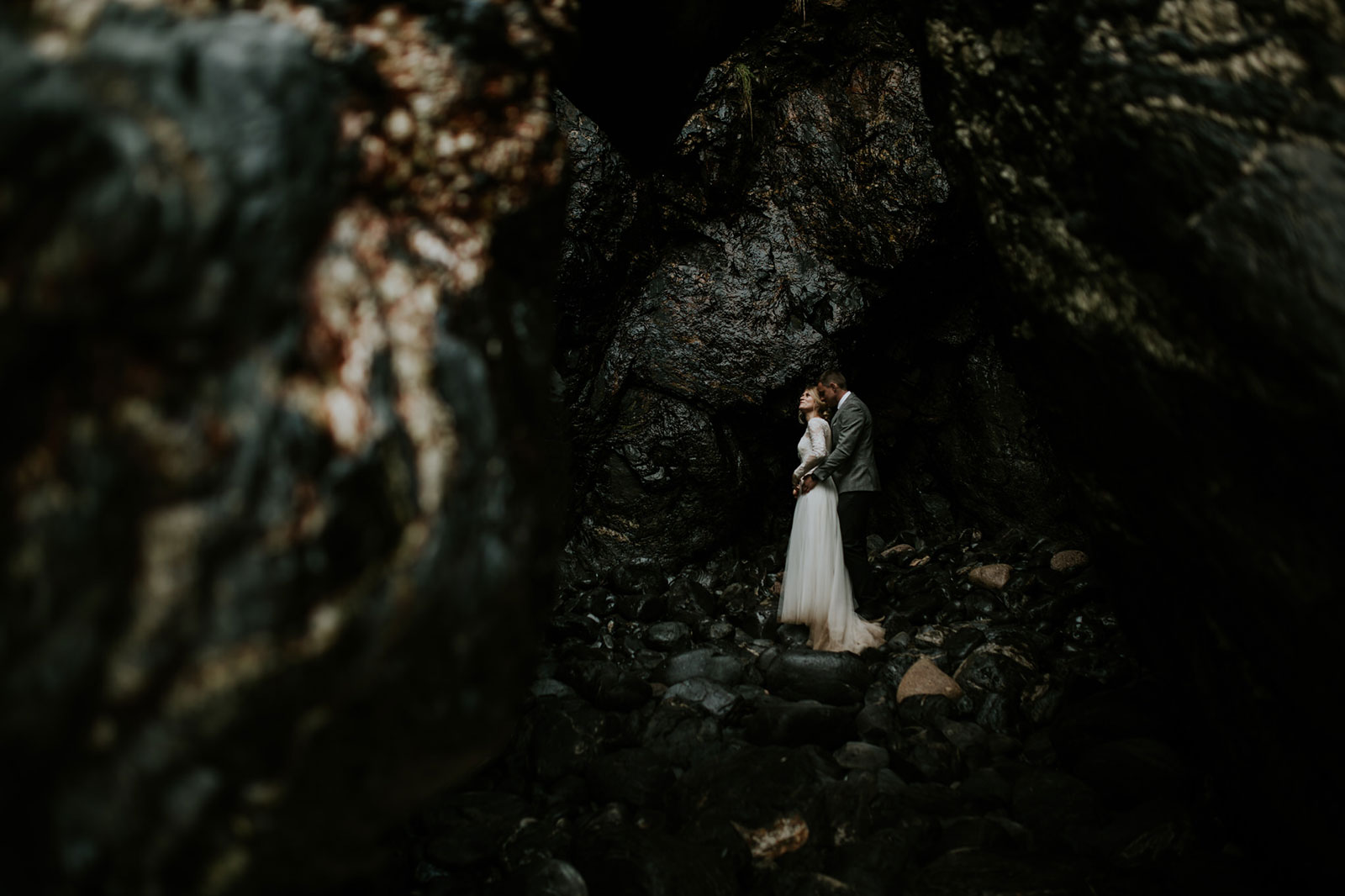 We can shoot at any time of the day or night and at any location to bring you a unique and magical wedding you will love, and others will be envious of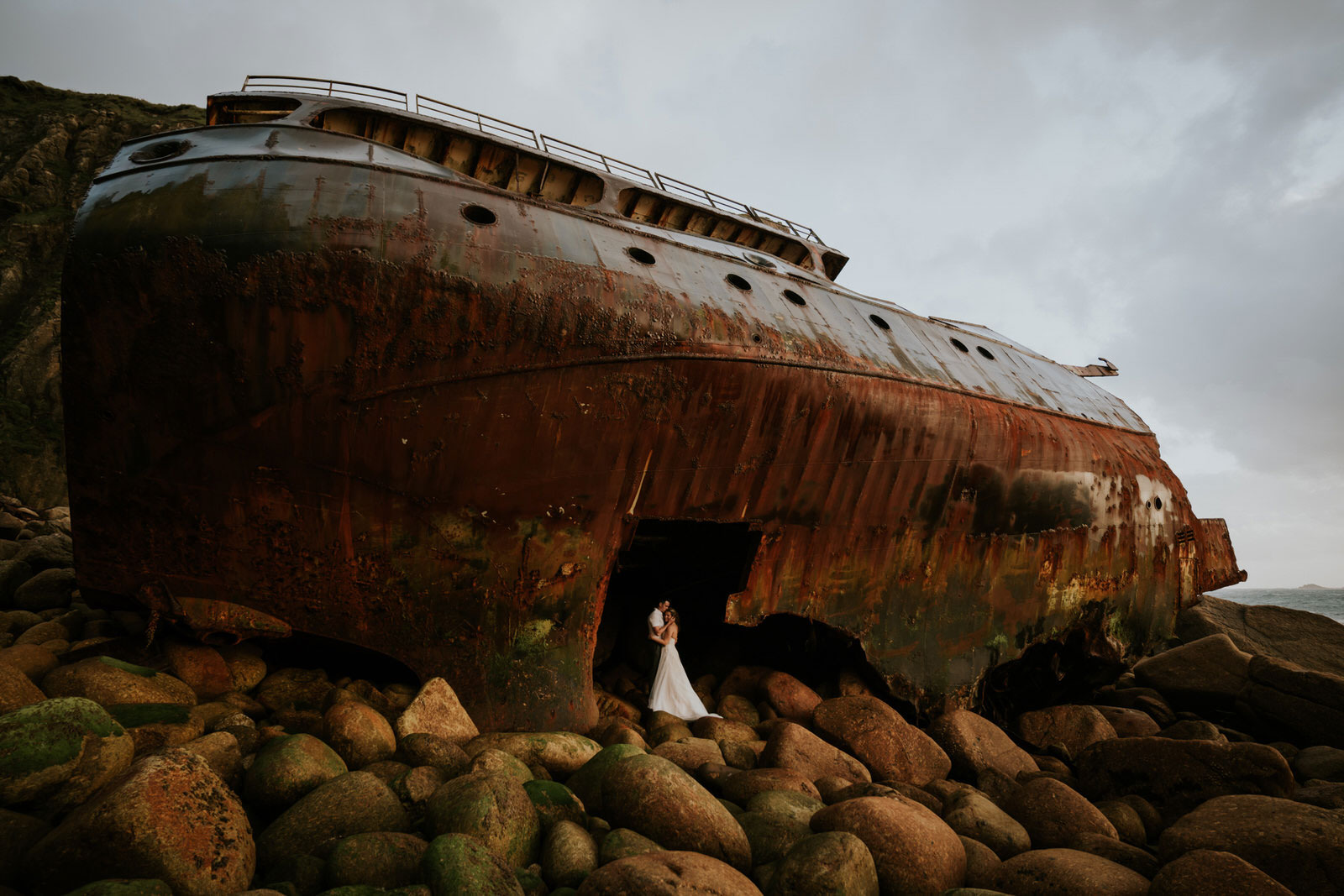 Timing
Just as important as the weather are the seasons, the tides (if you are having a beach wedding) and the number of daylight hours. We recommend investing in a tide book to check the tide times on your wedding day. The best time of day for an outdoor ceremony is the 2-hours before sunset. Try and look for a date where you have low tide and sunset on the same day. Sunset weddings give you quieter locations and also the all important 'golden hour' for creating dreamier and more romantic couple pictures on your wedding day.
Decor
Forget flower arches, room decorations, balloons and those formal seating plans; natural is best! If it is a little windy, your decorations can blow away or fall over, and we don't want to leave anything but footprints behind.
We love the little bamboo fire sticks for sunset ceremonies; these are easily kept in place in the sand and look really romantic for your beach wedding in Cornwall. They are light and easy to carry, and they stay lit in windier weather. Otherwise, what better backdrop is there than nature? Cornwall is blessed by so many beautiful coves and rugged wild cliffs – no decoration required! Keeping it natural will save you money, be less stressful for you and make your wedding day perfect for you to relax and enjoy.
Tell guests
If you are inviting any guests, let them know what you are planning. This will help them dress appropriately for your outdoor wedding. We recommend keeping it small and intimate. Ideally, outdoor weddings and wild elopements are easier, with only a handful of guests keeping it to under 8 guests works best. This allows you to be flexible on the day, and any change of plans will be quicker if at the last minute you need to work around the weather without having to worry about if your guests are ok.
Practical flat shoes are also best some of our couples, and their guests have worn hiking boots for clambering over rocks and then go barefoot on the beach!
Weather
Brollies, wellies, coats, shawls, jackets may all be needed depending on the weather forecast. It is essential to check any warnings and updates on the day. We are very flexible on wedding days, so if we know the weather is going to be bad, we can either shoot a day later or earlier. We can also find you a more sheltered beach or cove or shoot inside a sea cave or cornish mine to shelter from unpredictable weather. We always tell our couples to book a few days extra so they can move to another day, if need be, to get the day with the best weather. However, some couples book us and tell us they hope it is grey and wild and with rain for more dramatic shots, so it really changes, couple to couple.
Back-up plans
Embracing it, weather and all makes it all part of the fun and experience. We have worked with couples from all backgrounds and of all ages. All you need to bring is yourselves, a good smile and a sense of adventure!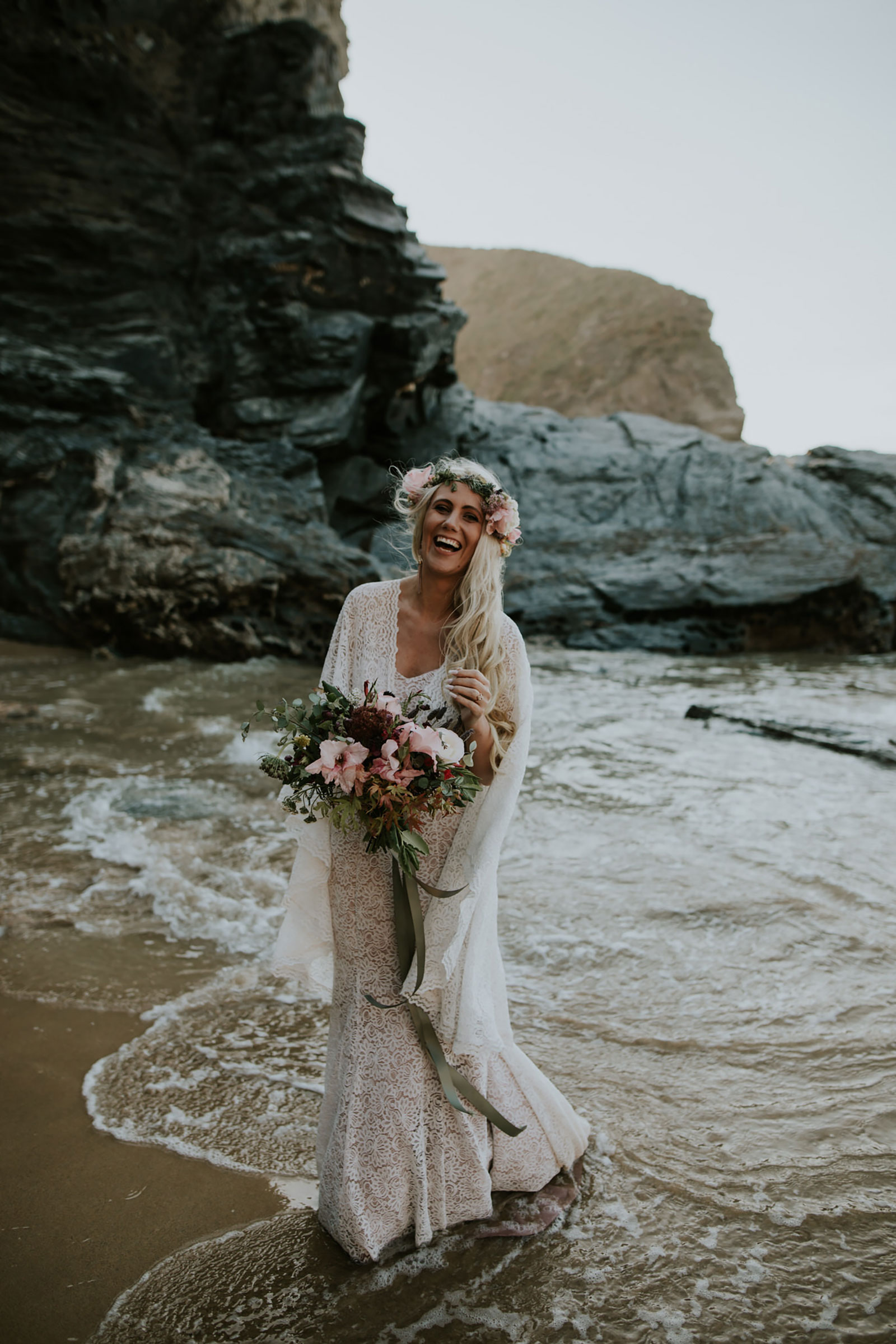 Images: Enchanted Brides