7 Tips for Choosing the Perfect Mismatched Bridesmaids' Dresses
mismatched bridesmaid dresses are on trend
So, how do you create a cohesive look with mismatched bridesmaid dresses?
If you're like most brides, you want your bridesmaids' dresses to be cohesive and look like they belong together. But what do you do if you can't find a style that everyone loves or if your bridesmaids have different body types? Don't worry –mismatched bridesmaid dresses are on trend, and there are plenty of ways to coordinate mismatched bridesmaid dresses for your wedding!
This is what we will cover
Can't wait to get Bridemaid Dress Shopping?
Your Bridesmaids will thank you for letting them flaunt their own style.
On your big day, all eyes will be on you. But that doesn't mean your bridesmaids should fade into the background! If you choose to mix and match shapes and necklines each bridesmaid will have a dress style they feel comfortable in. Allowing your girls to flaunt their own personal style is a great way to help them feel confident on your big day—and they'll definitely thank you for it.
Discover more articles of interest
Wedding Trends 2023
Wedding Colour Trends that you can expect to see in 2023
Bridesmaid Duties: The Ultimate Guide
11 Ideas for gorgeous Bridesmaid Bouquets
Maid of Honour Duties: The Ultimate Guide
Wedding Dress Styles and Trends
How to Choose Mismatched Bridesmaid Dresses?
Start with collecting inspiration to help you communicate your different styles and vision to your girls. Once you know what kind of look you're going for, start collecting! Pinterest is a great place to start, but don't be afraid to look elsewhere for ideas; our real wedding stories are jammed full of beautiful dresses and top tips too. Gather images of dresses, fabric swatches, photos of hairstyles and makeup, and anything else that helps communicate the different dress styles you like the feel and aesthetic you want for your bridesmaids.
Once you've gathered a good selection of inspiration, it's time to put it all together into a mood board. If you're not familiar with mood boards, they're simply a way to visually organise your ideas so that you can see everything in one place. You can create yours digitally or physically; if you go digital, sites like Canva offer free templates that make the process easy peasy.
Having a clear vision of what you want will help ensure that your girls are all on the same page (literally!) and will make sure that everyone looks and feels their best come wedding day. There are a few great trends emerging that you can use to put together a stylish and unique bridal party. It's not only about the colours. You can also choose to mismatch the fabrics, as well! There are plenty of ways to put your own spin on things.
Not sure how to go about giving your girls that freedom? Here are a few tips.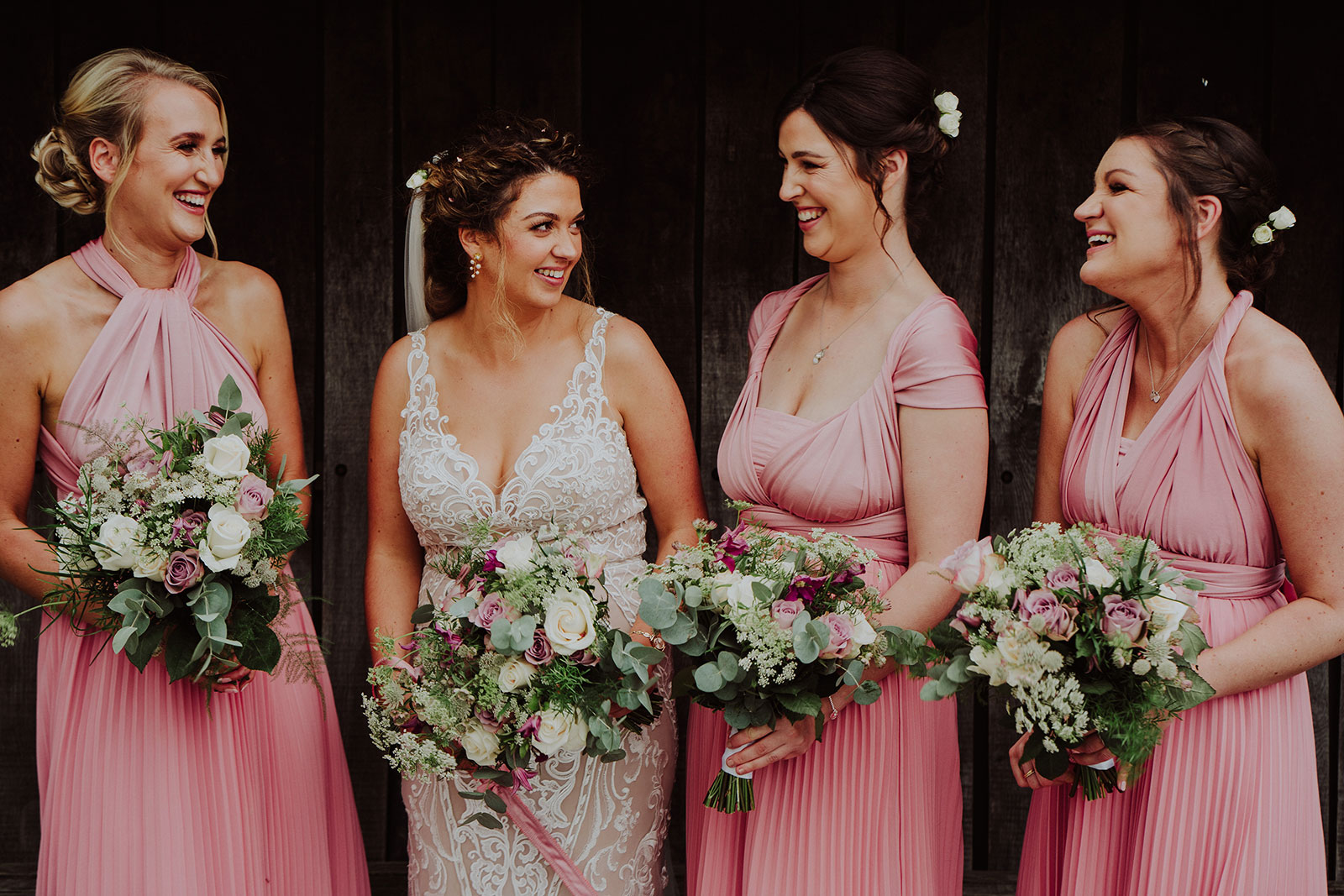 1. Visualise and pre-select the dresses
have a clear vision of what you want your girls to look like on your big day
Before you start putting together your mood board, it's important to have a clear vision of what you want your girls to look like on your big day. What colours do you want them to wear? What style of dress do you picture them in? Do you want them all to look similar, or have each girl's look be unique? Answering these questions will help you hone in on the details you need to include on your mood board. Mix-and-match dresses really can work; it's about choosing different necklines and contrasting dress styles.
Coordination is key to nailing the mismatched bridesmaid dresses trend
You'll want to make sure that all of the gowns are in the same silhouette—think A-line or slip dresses—to create a cohesive look. Start with pre-selecting necklines, dress length options and colours or prints that you like. Then, let each bridesmaid choose their favourite among your preset choices. Take into account each bridesmaid's personal style when choosing; after all, you'll want them to feel comfortable and beautiful on your big day, so make sure the dress you choose complements their style.
2. Season
Consider the season and location of your wedding. You'll want to make sure they're not too hot or too cold and that the colours you choose complement the overall aesthetic of your wedding day. No matter what time of year or location you choose for your wedding day, there are ways to make sure it's perfect. By taking into consideration the weather, colours, and flowers of each season, you can create a cohesive look that will complement your overall wedding aesthetic.
3. Choose a colour palette
One trend we're seeing for 2023 is bridal parties featuring different coloured dresses.
This is a great way to add some personality and variety to your photos. And it's not as difficult as it might sound to coordinate. One of the simplest ways to make mismatched bridesmaid dresses work is to choose a colour palette for your wedding and allow each bridesmaid to choose a dress within that palette. The same dress in different colours looks stunning and allows each bridesmaid to choose a colour that looks great with her hair colour and skin tone. No more worrying about whether or not everyone will love their dress – this way, you know they will!
When choosing different colours for your bridal party, try sticking with shades from the same hue. This will help create a cohesive look. For example, you could choose shades of pink, purple, or light blue. Or, if you're after something a little more unique, try pairing contrasting colours like black and white or red and green. Whether you go bold with bright colours or keep it classic with neutrals, having everyone pick from the same colour family will create a cohesive look.
We love blush-to-blue ombré gowns for bridesmaids — so on-trend and so easy to recreate! Just have your 'maids choose dresses in different shades of pink and blue, and voilà—you've got a gorgeous colour palette that will make for some stunning photos. Plus, your girls will love being able to pick out a dress that fits their own personal style. Win, win!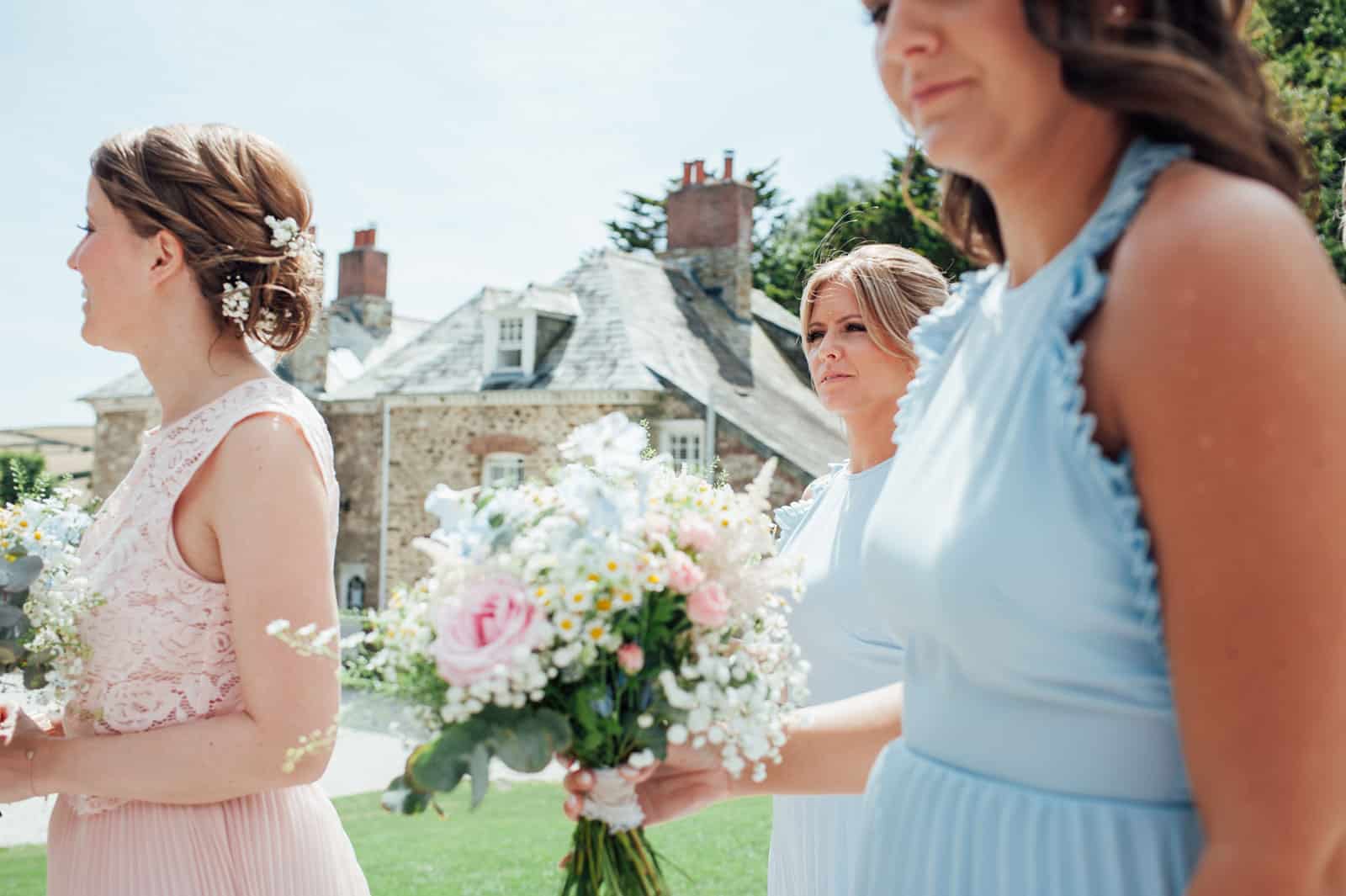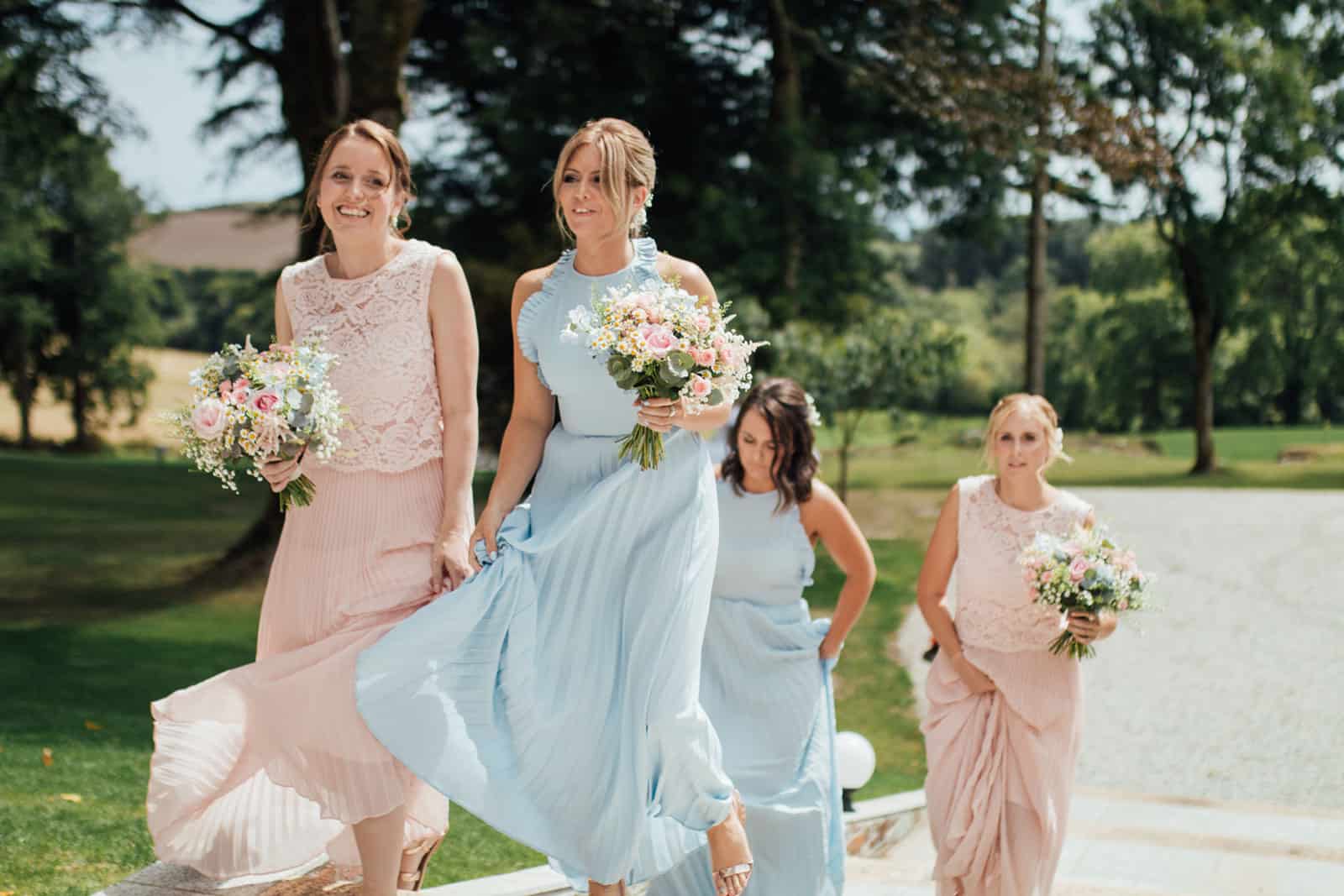 4. Stick to one designer
Another great way to ensure cohesion among your bridesmaids' dresses is to have them all choose a style from the same designer. This way, you will know that each dress will be made with the same quality and fabric, and they'll still have enough variety in terms of design. There are many bridesmaid collections to choose from that offer dresses in the same colour and texture, but with entirely unique silhouettes.
5. Mismatched fabrics
You don't have to stick to the same fabric – a popular trend for 2023 is mismatched fabrics. This is a great way to add some texture and interest to your photos. Mixing different textures can also be a great way to create a contrast that ties each look together.
Velvet and chiffon are both great options because they photograph well and have a luxurious feel. Just be sure to steer clear of any fabrics that wrinkle easily or don't photograph well. If you have one bridesmaid in a long satin gown and another in a mid-length lace dress, the juxtaposition of materials will make the whole look more interesting and unified at the same time. This moves us nicely into tip four!
6. Utilise lengths
Having each bridesmaid wear a different length dress can be a great way to make mismatched dresses work together. Just make sure that you keep the lengths relatively similar – so that it looks intentional and not random.
7. Have fun with prints
Incorporating prints into your bridesmaids' dresses can be a great way to make mismatched dresses work. Just make sure that you keep the prints within the same colour family and have everyone wear a different type of print.
Choosing your bridesmaids' dresses is a big decision, but it doesn't have to be stressful! By following these seven simple tips, you can easily find the perfect looks for your besties that will complement their individual styles and make them feel comfortable and beautiful on your big day. Most importantly, don't forget to have fun with it! After all, this is one of the many joyful parts of wedding planning.
Bridesmaid Dresses in Cornwall
Bliss Bridal – 'Because you can't say 'I Do' without your crew.'
Sorella Vita at Bliss Bridal. Get ready for a unique and unforgettable celebration with Sorella Vita gown! With an amazing selection of styles, shades, fabrics and more – each bridesmaid can rock her own look while still being part of the same glamorous squad. Look no further if you want to create special moments together that will be cherished forever.
The Bridal House of Cornwall Bridesmaids Experience
Let your bridesmaids shine on the big day! Unlock a world of gorgeous options with The Dessy Group. A stunning array of dazzling dresses in all colours, sizes, and styles. Create an unforgettable wedding look that will have everyone dazzled!
You will receive a glass of champagne
Get the Catwalk in "The Boudoir" all to yourselves
Sit down style consultation to make sure the palette on your special day fuses beautifully
Find the perfect style & shape bridesmaids dresses for each body shape, everyone of you can look fabulous!
Fun and fizz on the catwalk as we capture snaps of everyone in their favorite dresses.
Settle at our large dining table and watch your photo's back over some bubbles with your entourage in our "Viewing Library"
You will be emailed a private link to download your personal images to help you select the dresses of your dreams
Please call in advance of your appointment to pay and reserve your booking – £5.00 per person.
Happy Bridesmaid dress shopping!