Wedding Dress Styles and Trends
Wedding Dress Styles and Trends: The Latest Designs for Your Big Day
If you're newly engaged, you're probably in the thick of wedding planning. And if you're anything like most brides-to-be, one of the first things on your to-do list is (drumroll please) wedding dress shopping!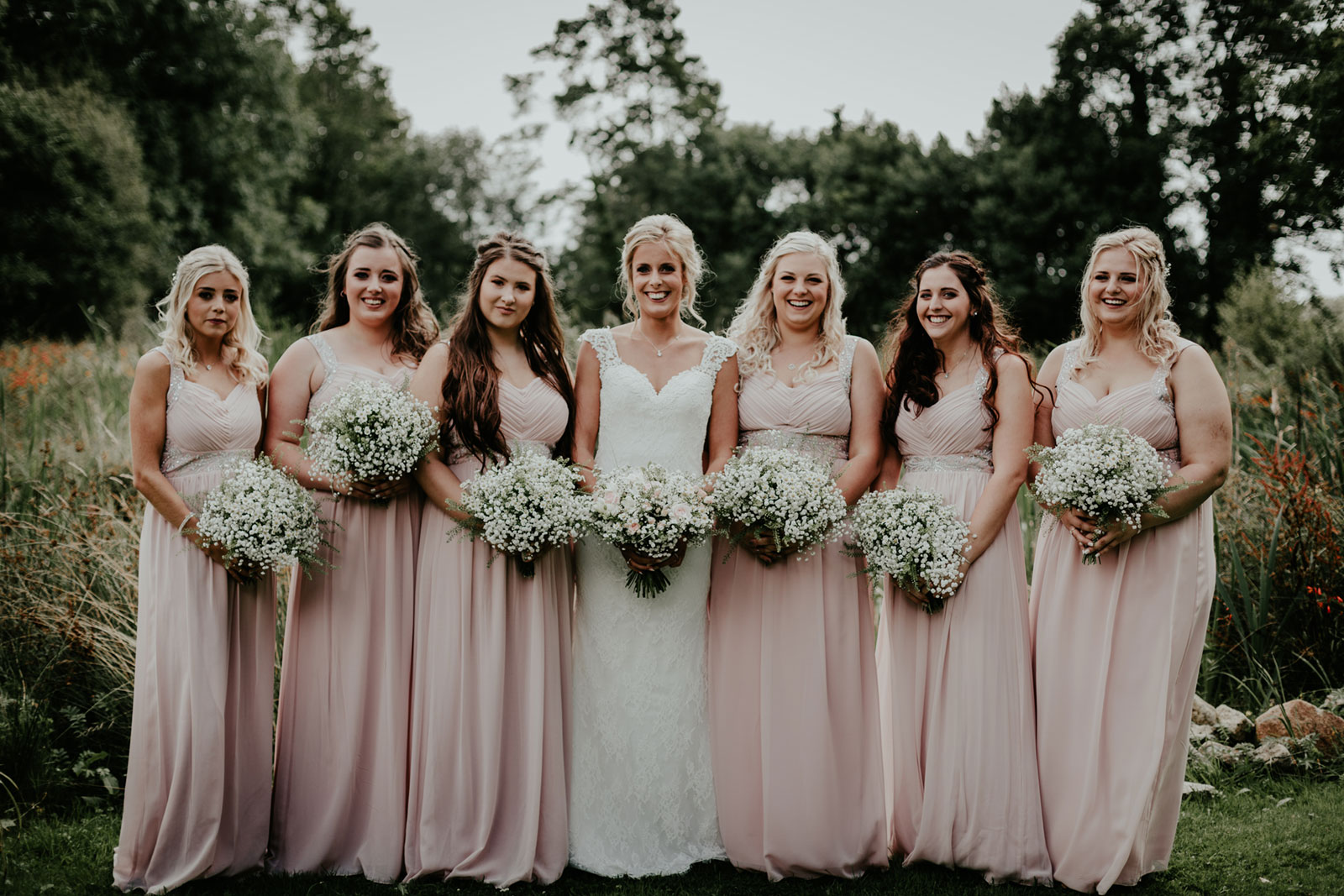 Whether you've been dreaming of your wedding dress since you were a little girl or you're just beginning to look now, it's important to be up-to-date on the latest wedding dress trends and styles.
You're in luck! In this blog post, we will discuss the latest wedding dress trends. We'll show you some of the most popular designs for brides, all the in style wedding dresses. Whether you're looking for a classic style or something more modern, from over-the-top ball gowns to mermaid wedding dresses to sleek and sexy silhouettes, there is something for everyone.
So sit back and enjoy our roundup of the hottest wedding dresses this season. So sit back and relax while we take you through the world of wedding fashion!
7 wedding dress trends that you'll want to know about
As a bride, you want to make sure that your wedding dress is on-trend. But with so many wedding dress trends out there, it can be tough to decide which ones to go for.
Do you have an idea of the style, but are not sure which one is right for you and your body type? Do you want something classic and elegant? Or maybe something more fashion-forward and unique? Would you like a strapless dress, a fishtail dress or puff sleeves? A dress to show off your gorgeous curves – we all have different body types! And we haven't even started talking about the neckline. High neckline, square neckline, plunging neckline and demure neckline to name a few.
There is so much to consider and that's why we've put together this list of seven wedding dress trends that are hot right now. We want you to look amazing on your wedding day so keep reading to find out more!
One of the biggest trends we're seeing in wedding dresses right now is the return of the sleeves which add a little modern romance. This is a great option for boho brides who want to be stylish and modern something for the fashion-forward bride. We're also seeing a lot of lace and embroidery details on dresses. This is a beautiful way to add some extra texture and interest to your dress. If you're looking for something a little different, why not try a coloured wedding dress? We've seen everything from pale pink to bright red. This is definitely a bold choice, but it can be so stunning!
1. Off-the-shoulder dresses
Off-the-shoulder dresses are definitely still in style. They give a romantic and elegant look that will make you feel like a princess on your big day.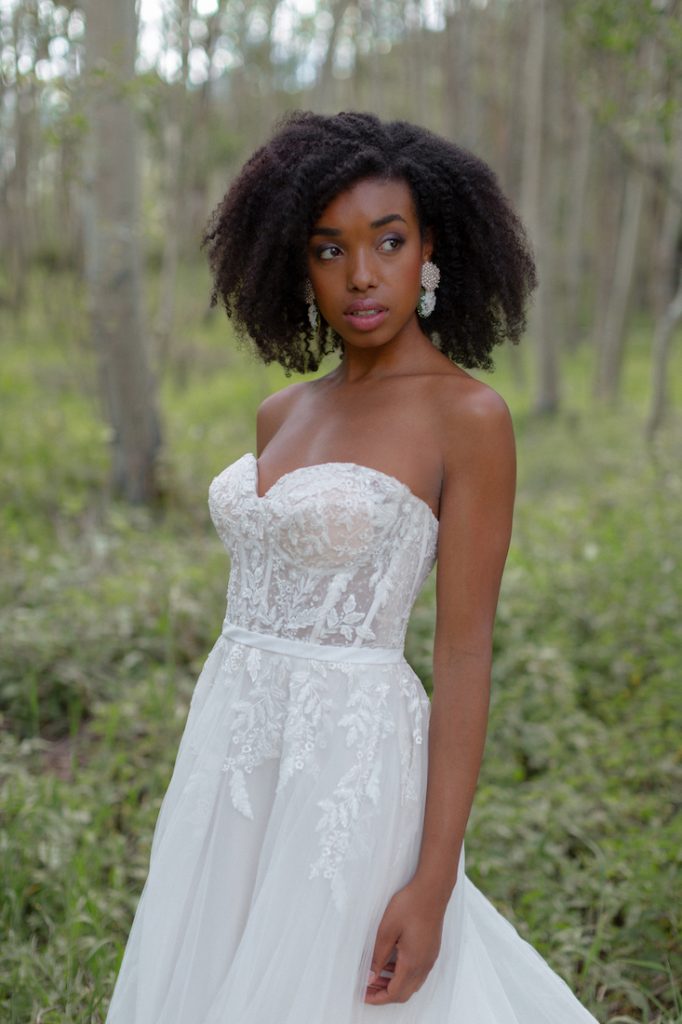 Off-the-shoulder dresses can be either classic or modern, so there's sure to be one that suits your style. You can choose a dress with lace straps for a more traditional look, or go for something with a strapless bodice for a more contemporary vibe. Plus, they are perfect for showing off your beautiful shoulders and neck.
A beautiful example would be Wren a dress by Wilderly Bride – romantic lace and delicate beading adorn the bodice of a strapless A-line gown. Giving a modern edge with clean lines.
Whichever style you choose, we're sure you'll look gorgeous in an off-the-shoulder wedding dress!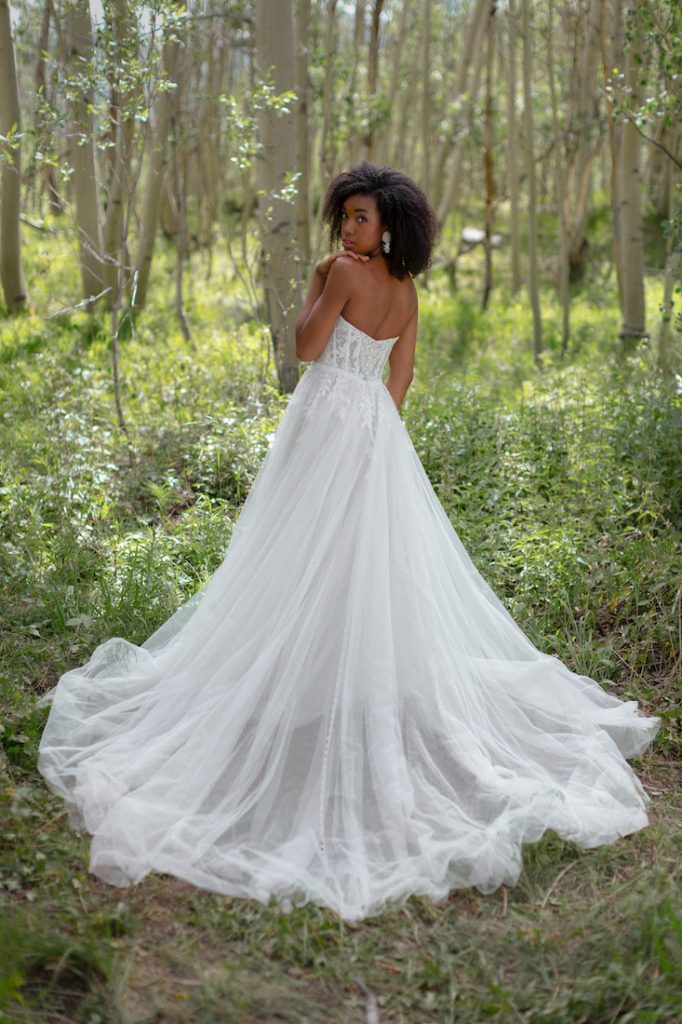 2. Lace wedding dresses
Lace wedding dresses are one of the most popular styles for brides. A lace wedding gown is romantic, elegant and timeless, and can be dressed up or down depending on your preference. Lace dresses are also flattering on any body type. If you're looking for a dress that is both classic and stylish, a lace wedding dress is a great choice for making a fashion-forward statement.
There are many different types of lace, so you can find the perfect one for your dress. Some of the most popular types of lace include Chantilly, corded, floral lace and embroidered lace. Each type of lace has its own unique look. Vintage-inspired classic beauty. You can also find lace in a variety of colours, so you can choose the perfect shade for your dress.
Whether it's intricate lace detailing or an all-over lace design, lace dresses are sure to turn heads. A beautiful example of a lace wedding dress would be Panjin by Pronovias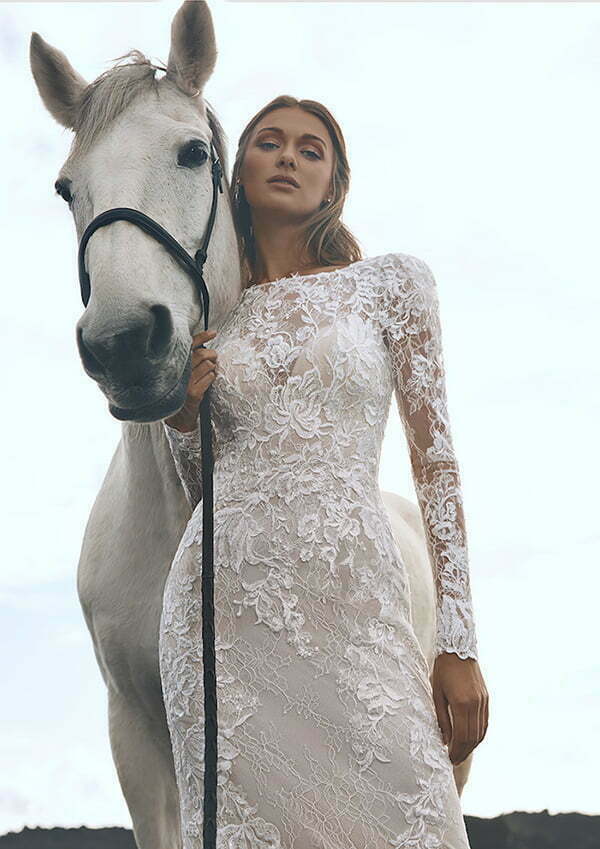 An elegant mermaid gown of Chantilly lace and a soft layer of tulle on the skirt. Complete with a chic boat neck and elegant long sleeves, lace appliqués enhance the texture of the Chantilly lace, while a plunge back and invisible closure creates a smooth silhouette that flatters the body. Mermaid styles are simply stunning and create a sexy silhouette.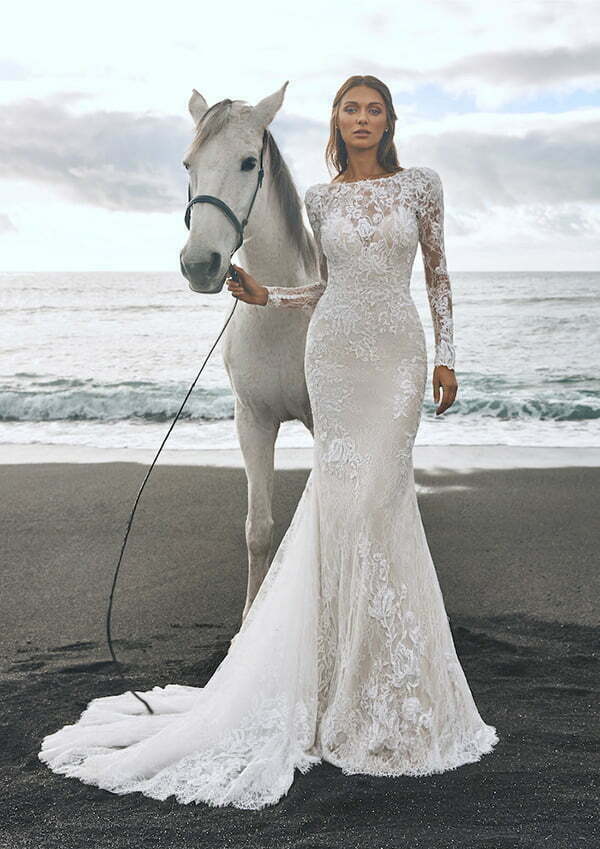 3. Coloured wedding dresses
If you're looking for something a little different, why not try a coloured wedding dress? Whether it's a light pastel shade or a bold statement colour, adding a pop of colour to your wedding dress is a great way to stand out from the crowd.
White Rose is a romantic collection of stunning bridal gowns, made with the finest lace and silk. The feminine designs are completed by hand embroidery or beading that gives each piece an individual touch!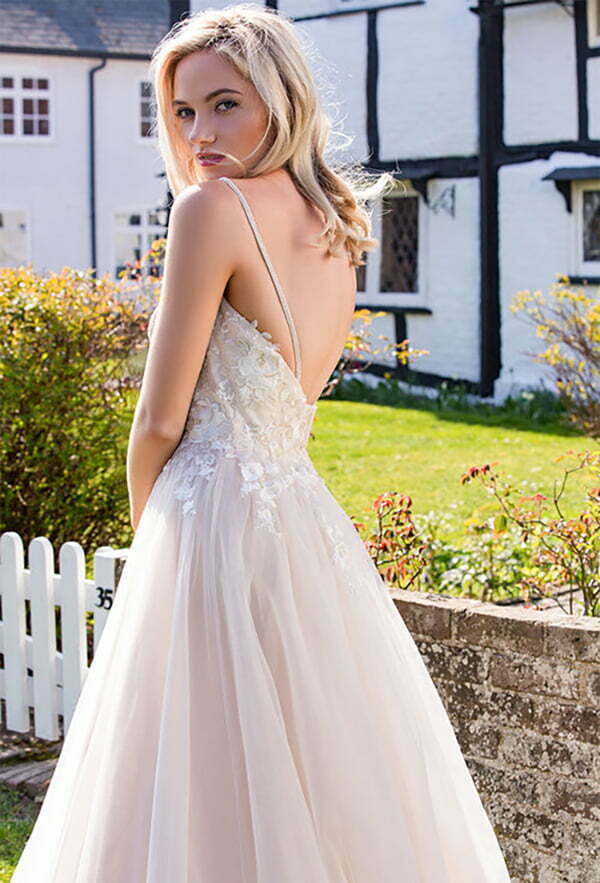 4. Customise Your Dress!
Imagine your perfect wedding dress, one that is exclusively made for you. With the White Rose range, you can choose from an array of colours and fabrics to create the most unique bridal gown ever! Choose between long sleeves or lace detail on top; White Rose has all kinds in their collection so there will be something just right for every bride who has a fabulous imagination!
5. The Two-piece Wedding Dress
If you're looking for something unique and different, try out a two-piece wedding dress. Two-piece wedding dresses are becoming more popular among brides who want to show off their individuality. Plus, they are perfect for hot summer days or destination weddings. If you're looking to make a statement on your big day, a two-piece dress is the way to go!
Kelsey Rose is a London-based brand that believes in supporting individuality and could be the perfect designer for your dream dress. Whether you want boho-luxe or city chic, they have something for every modern bride! We love the look by Kelsey Rose styling the Maria Skirt with a delta top. The perfect two-piece combo!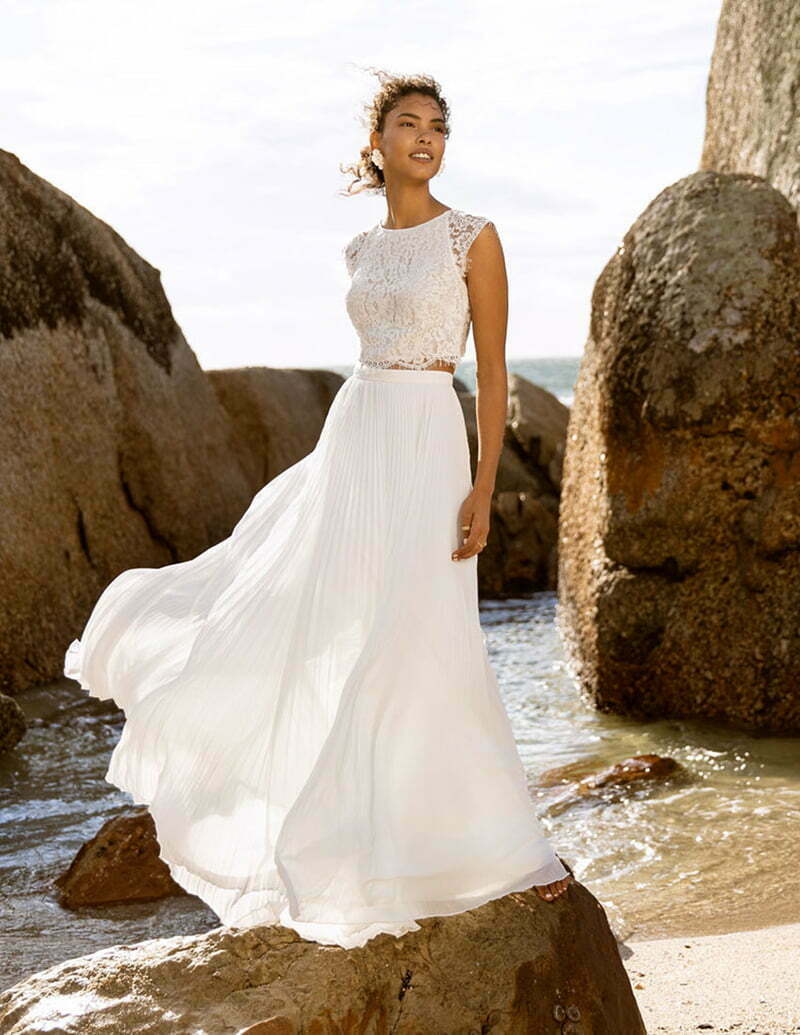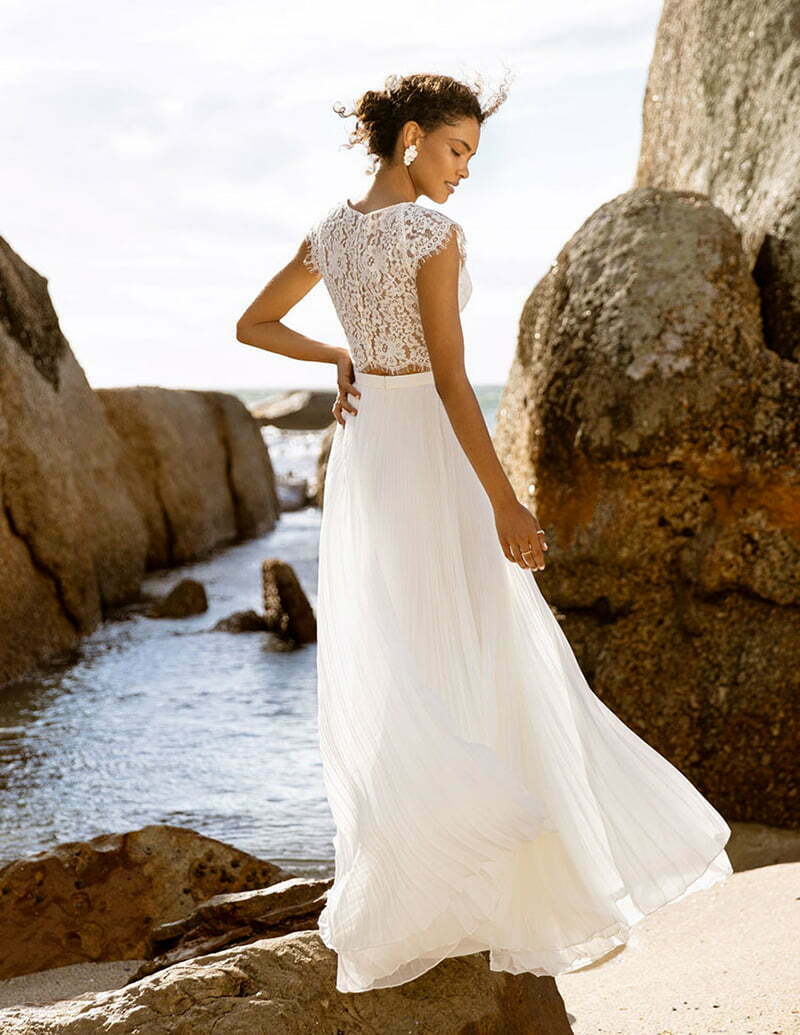 6. Dresses with sleeves
Wedding dresses with sleeves are having a moment. From delicate cap sleeves to billowing bell long-sleeved wedding dresses with sleeves are becoming more popular as brides strive for a more modest look. Sleeves can be long or short, and they can be made from a variety of fabrics.
A beautiful example would be Austin by Lillian West. Allover embroidered eyelet lace creates an edgy, vintage vibe on this long sleeve fit and flare bridal gown.
Trim lace details the V-neckline, empire waist, and bell sleeves. The gorgeous keyhole back features a small lace-up detail, an invisible zipper, and a sheer chapel length train. For a more traditional look, a version with standard long sleeves is also available.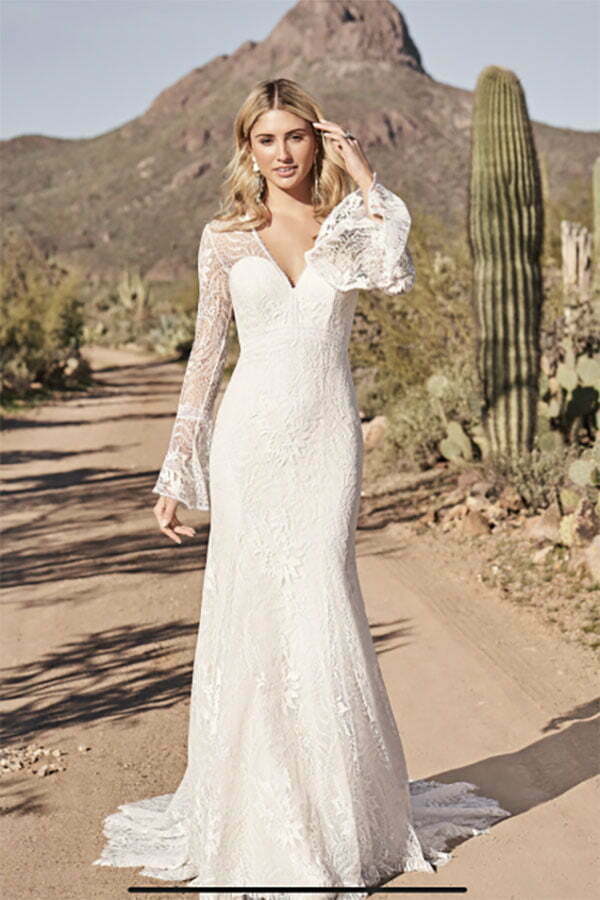 7. High-low wedding dresses
High-low wedding dresses are a great choice for brides who want a little bit of both worlds. Something for the modern bride in which you are sure to make a grand entrance with that high fashion look. These dresses have a long train in the back and a shorter skirt in the front, making them both stylish and practical.
These are just a few of the latest wedding dress trends and whatever style you choose, make sure it's something that makes you feel confident and beautiful on your big day. After all, it's your day to shine! Thanks for reading, and we hope this post helped you find some inspiration for your own wedding dress.
Happy wedding dress shopping!