How to Plan a Wedding: A Step-by-Step Guide
Are you engaged and feeling overwhelmed with wedding planning? You're not alone!
The wedding planning process can be daunting, but we're here to help.
This complete guide will walk you through everything you need to do to plan the perfect celebration. We'll cover everything from setting a budget to picking a venue. In this blog, we will go through everything, so grab a cup of coffee and get ready for some wedding planning tips!
Here are our 19 steps to planning a wedding
If you have completed some of these steps, that's great – to make it even easier for you, click the link below and jump to where you need to start
Set Your Wedding Budget and Stick to It
First on your Wedding Planning Checklist is the budget. Knowing how much money you are willing and able to spend on your wedding ahead of time is critical for keeping costs in check and making sure you don't overspend.
Establishing your wedding budget early in the wedding planning process will provide clarity throughout the rest of the planning and ensure that you don't find yourself going over your allotted funds trying to make everything perfect. Any wedding should be treated as an investment, but sometimes things can get a bit expensive, so it's important to consider all available options while remaining within your wedding budget.
Discover more articles of interest
Wedding Decor Hire and Styling, Cornwall
Wedding Table and Seating Plan: The Ultimate Guide
Delegate Tasks
Planning a wedding is no small feat; having a team to help you out can be a lifesaver.
Consider delegating tasks to your maid of honour, bridesmaids, friends and family members – this ensures things don't all fall on your shoulders. From picking out décor to setting up RSVPs, having your bridal party take care of some details will make the whole planning process much smoother for you. Make sure to assign duties that fit their strengths or interests! You'll have plenty of time to enjoy the big day without any stress if everyone pitches in!
Set Your Wedding Date
Choosing a wedding date and venue can be stressful since there are so many factors to consider.
The time of year is an important factor, as well as the location; think of what would work best for both you and your guests. For example, a summer wedding on the beach might seem like an exciting option, but it's essential to take into account any potential inconveniences this could bring. Consider activities that everyone can enjoy at the destination, accessibility for those travelling from further away and also any potential disruptions for your guests such as peak season rates. All these factors should be taken into account when making your decision so you can pick the perfect setting for your big day.
Click the image below! Our Hen Party Guide- Helping you to plan the perfect party. 21 pages, including helpful planning templates.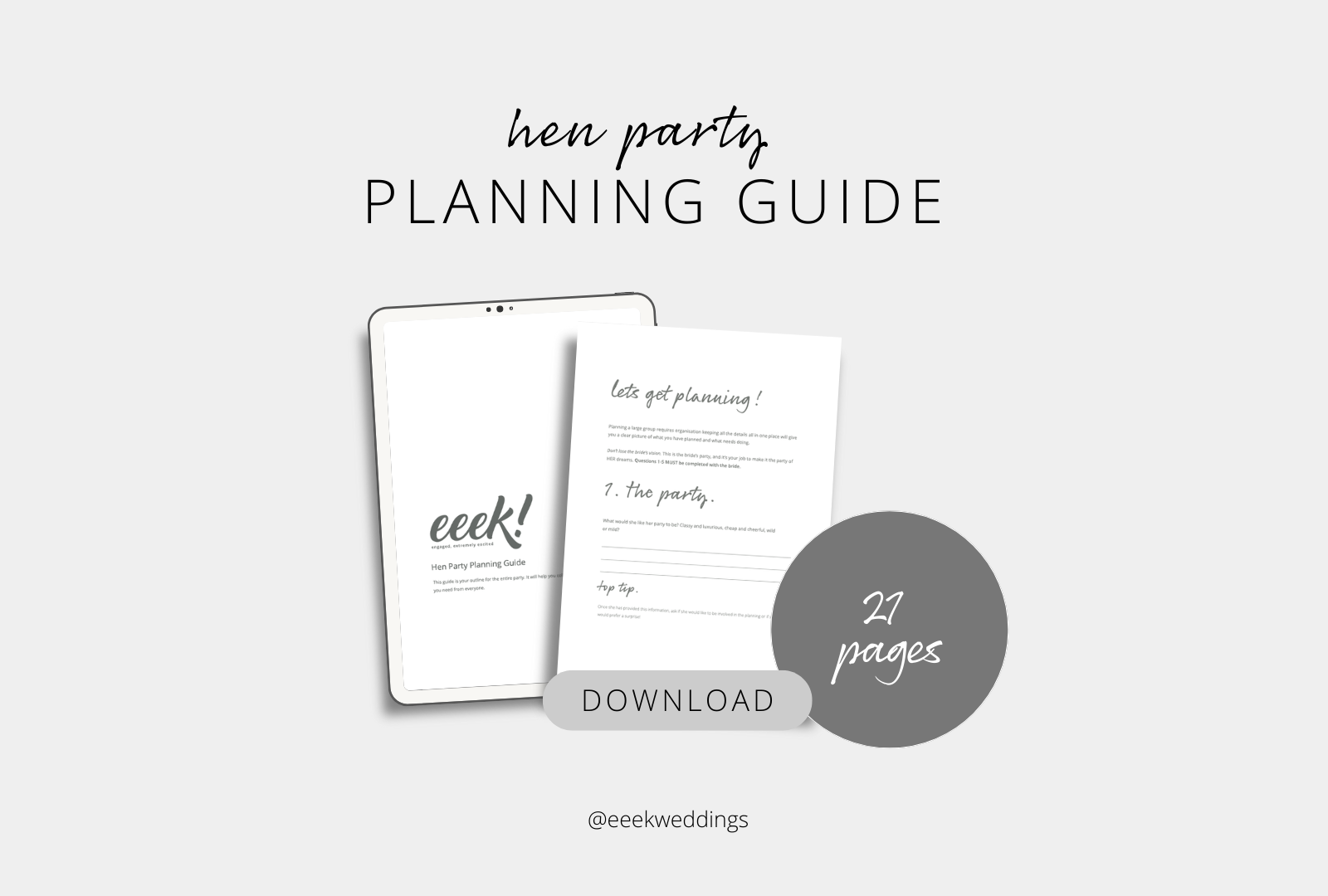 Choose Your Wedding Party
You've said yes, and you've set the date; now it's time to choose your wedding party!
This is an exciting and important part of planning your special day, so take some time to make sure you pick people who will be there to support you and make your wedding as wonderful as possible. Here are a few tips to help you choose your wedding party.
Consider Your Relationship with Each Person. When choosing your bridesmaids, groomsmen, flower girls, etc., think about how close each person is to you. You want those closest to you standing up with you on your special day—people who have supported you through thick and thin.
Consider Practicalities. When making your list of potential bridesmaids or groomsmen, consider practicalities such as location. Choose those that can realistically attend all necessary events leading up to the big day without having to travel halfway around the world! Make sure these people know ahead of time what the expectations are so that everyone is on the same page.
You can make being part of your wedding party extra special by personalising gifts for each member! Include them in planning festivities leading up to the big day, like showering them with love at spa days or brunch dates with all their closest friends. Making it fun will show them how much you appreciate their support and friendship over the years.
Choosing your wedding party is an important part of planning for your special day; make sure it reflects how much each person means to you! Take some time to consider who would best suit each role, and remember that practicality matters too. With a bit of thoughtfulness and careful consideration, picking out those perfect people for each role will be easy-peasy!
Click the image below! Our Maid of Honour Guide will help you every step of the way. 18 pages, including helpful planning and budgeting templates.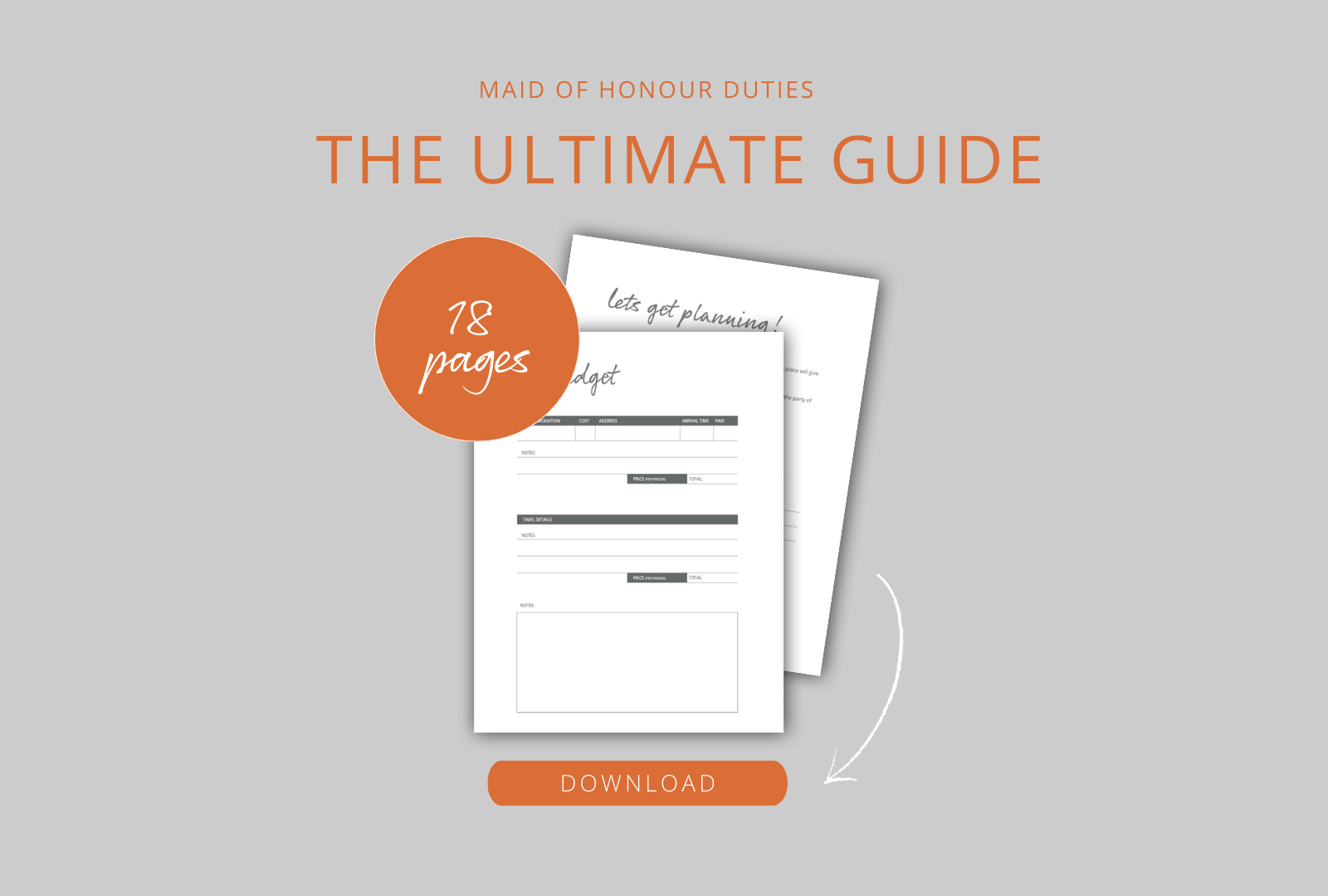 Plan your Wedding Guest List
There are so many factors to consider—who to invite, who not to invite!
The first thing you need to do when creating your wedding guest list is to decide on the basics: how many people you want at your wedding and what type of atmosphere you want. Consider whether you're having a large formal wedding or an intimate ceremony with just a few close friends and family members. This will help you determine how many people should be included on your guest list and which guests should receive priority invitations.
Research using eeek! Weddings
With its picturesque coastline, beautiful beaches, and charming villages, Cornwall is an idyllic setting for your special day.
Eeek! Weddings feature the cream of the crop when it comes to wedding suppliers in Cornwall, providing brides, grooms, and their families with everything they need to make their special day even more memorable.
Whether you're seeking a classic or modern style for your wedding ceremony, eeek! Weddings can provide you with an extensive list of businesses that offer just what you need. From photographers to venues to wedding catering, flowers, mobile bars, and so much more!
Not sure which service provider would be best for your needs? Don't worry; eeek! Weddings have done all the hard work for you – curating only the best suppliers so that you don't have to search high and low for quality service providers who are passionate about helping couples create beautiful weddings. All these suppliers have been thoroughly vetted by eeek! Weddings for quality assurance purposes so that all of their customers receive only first-class services from reliable suppliers.
Your wedding should be a magical experience and eeek! Weddings can help make sure it will be one that you'll never forget. With curated lists of trusted vendors in Cornwall who offer top-notch services at competitive prices, they make it easier than ever before to plan the perfect wedding celebration within budget while ensuring everything is taken care of down to the last detail. So go ahead – start browsing and find those special touches today! You won't regret it!
Choose Your Wedding Style
This essential part of the wedding planning process helps establish the overall tone, look and feel of your big day.
Whether you're going for classic elegance, modern chic, vintage glamour, rustic charm, or something in between, here are some tips to help you choose the perfect wedding style!
Start With Your Vision. Before you can start narrowing down the possibilities, it's important to take a step back and think about what kind of atmosphere you want for your wedding day. Are you looking for an outdoor celebration with natural elements or something more romantic with soft colours and candlelight? Consider all of your options before deciding on a specific theme.
Decide On A Color Palette.
Once you've settled on a style or theme, it's time to pick out colours that fit with it. You'll want colours that complement each other while still expressing your individual taste and style. Think about how these colours will work together in everything from the bridesmaid dresses to the centrepieces to create an overall cohesive look throughout your big day!
Remember To Have Fun!
It's easy to get overwhelmed when there are so many choices available—but don't forget that this should be a fun process! Allow yourself some creative freedom—whether it's mixing different styles together or getting inspired by unexpected sources—to make sure that your wedding reflects who you are as a couple.
When it comes to choosing a style or theme for your wedding, it pays off to take some time for thoughtful consideration. By taking into account both their vision and their venue, couples can create something truly special for their big day – one that celebrates their unique sense of style! However you decide to approach it, remember to have fun with it – after all, this is one of the most important days of your life!
Research Your Venue Options
Your choice of venue will also have an impact on the overall look and feel of your wedding.
If your venue has its own unique character—like an old country barn or a grand ballroom—you may want to embrace that as part of your theme. Choosing colours that complement the interior décor can help bring out its best features.
Before you start researching venues, it's important to get organised and create a vision board and wish list. Start by gathering images of decorations, settings, and themes that you like. This can be anything from Pinterest boards with outdoor ceremonies or colour palettes for the reception décor. Having images that showcase what kind of atmosphere you want helps provide clarity on which direction to take when researching venues.
Additionally, create a wish list with elements that are non-negotiable for your wedding day, such as if the venue offers an indoor/outdoor option or if they provide catering services. Knowing what features are must-haves will help narrow down your options and save time in the long run.
Once you've gathered all of your inspiration images and determined what features are necessary for your dream venue, it's time to start looking at actual locations! Pull out those notebooks or open up those spreadsheets because it's time to do some research!
Start by browsing venues online—check out their websites, read reviews, look at pictures—and see if any stand out in particular. Don't forget about asking around! Word-of-mouth referrals from friends or family who have booked weddings at certain locations can be extremely helpful in making informed decisions about where to book yours.
Once you have narrowed down your choices based on online research and word-of-mouth referrals, it's time to visit each location in person! Meeting with the event coordinator at each venue is essential; not only will they be able to answer any questions about space availability or pricing, but visiting the location also gives you a better idea of how everything looks up close rather than just online photos or videos. Make sure to bring along notes from all of your previous research so that nothing slips through the cracks during this meeting; don't forget things like parking, corkage fee, availability etc
Choosing a wedding venue is one of the most important decisions couples make while planning their big day. It's important not only to select a beautiful location but also one that fits all of your needs (and wants!).
The best way to ensure that happens is by doing thorough research upfront before committing. Create a vision board with inspirational images and determine which features are non-negotiable for your wedding day, do online research by reading reviews and looking at photos, ask around for referrals from family members or friends who have booked weddings before yours, then visit each location in person–take notes during these visits too! Taking these steps will set up couples for success when selecting their desired wedding venue and ultimately make sure they enjoy every moment on their special day!
Set Up Your Wedding Gift List
The first step is to decide where you want to set up your registry.
There are lots of different stores that offer registries, such as department stores, online retailers, speciality stores and even home decor stores. Each store has its own advantages and disadvantages, so make sure you do some research before making your final decision.
Once you've decided on which store to use for your registry, it's time to start adding items! Try to include something for all budgets – from small items like kitchen utensils or bedding sets to larger gifts like furniture or appliances – so that everyone can find something they can afford. It's also important to include items that reflect both of your personalities and interests so that your guests feel like they're really getting something meaningful and special when they give a gift from your list.
Once your list is ready, it's time to share it with family and friends! You can either share the link directly via email or add it to your wedding website or invitation suite (if you have one). This way, everyone will know exactly where to shop for the perfect present for you and your partner!
Check In On Your Wedding Budget
Weddings can be pricey, and it's easy to overspend if you're not careful. As wedding planning progresses, it can be hard to keep track of all the details and costs associated with your big day. That's why it's important to stay on top of your wedding budget as much as possible. So keep checking in on your spending and keep those spreadsheets up to date!
Pick Invitations and Save the Dates
When it comes to planning a wedding, sending out save the dates is key.
Not only does sending these cards help to notify your guests ahead of time, but it also allows them to plan in advance so they don't have any scheduling conflicts and can fully enjoy your big day. To ensure that everyone has ample notice, send out the save the dates at least six months prior – this will give everyone a chance to make arrangements and pencil the date into their diaries. The more organized you are, the smoother the day will run!
Find the Best Wedding Suppliers
There are so many amazing wedding suppliers in Cornwall there who will make your big day even more special. Start Your Search Early.
It's important that you start searching for suppliers as early as possible. This way, you can get an idea of what services are available and compare their prices and offerings before making your decision.
Don't just go with the first supplier that comes your way—take the time to do your research and look at different options. Read reviews online, and read the many real wedding stories on eeek! ask friends and family for recommendations, and take a good look at each wedding supplier website and/or social media posts. You should also read any contracts carefully before signing them.
Prioritise Quality Over Price. It's understandable that couples want to save money when they're planning their weddings, but it shouldn't come at the expense of quality. You don't want to skimp on important details like photography or catering just because they're expensive—you'll regret it later! Spend wisely so that you get great value for money without compromising on quality.
Purchase Your Wedding Dress and Other Attire
Allow yourself plenty of time to find the perfect dress, shoes, jewellery, and accessories.
After all, you don't want to be running around at the last minute trying to get everything in order. Start shopping at least ten months before your wedding date so that you have enough time to place orders and make alterations if needed.
Try Different Styles – don't limit yourself to one type of dress or style. Try different styles on until you find the one that fits perfectly and makes you feel beautiful. From strapless ball gowns to form-fitting mermaid dresses, there are so many options out there – keep an open mind!
Choose Comfortable Shoes! Comfort is key when it comes to choosing shoes for your big day! Look for a pair that has a manageable heel height while still making you look elegant and sophisticated. Additionally, consider bringing a backup pair that can provide extra cushioning if necessary during dancing or other activities throughout the night.
Your Bridal Party.
From traditional tuxedos and gowns to modern suits and cocktail dresses, styling your bridal party can be a lot of fun. Let's discuss what's trending when it comes to bridesmaids' and groomsmen's attire.
Bridesmaid Attire Trends
When it comes to bridesmaid dress trends, there are many options available! Bridesmaid dresses come in just about any colour imaginable now – from pastels to jewel tones – so don't be afraid to get creative!
Off-the-shoulder necklines have become increasingly popular over the past few years – perfect for outdoor ceremonies during warmer months where comfort is key! Cap sleeves are also making a comeback, so if you're after something timeless yet chic, this could be the way to go!
Groomsmen Attire Trends
Groomsmen are often outfitted in classic tuxedos or coordinated suits in shades of black, navy, charcoal grey, or white. If you're looking for something a bit trendier, consider adding a pop of colour with neckties, pocket squares, and cummerbunds in bright hues like purple, yellow, teal or pink. Or tailor your groom's look with trendy accessories like suspenders or bow ties for a more fashionable look.
For a more casual ceremony or destination wedding, try updating classic tuxedos with light-coloured linen suits that give off an air of sophistication without being too stuffy. You can mix and match colours for groomsmen as well—it provides an eye-catching contrast that is sure to make everyone stand out!
No matter what style you choose for your bridal party attire–traditional or modern–your big day should reflect your own personal taste and style. Outfitting your bridal party allows you to express yourself while creating unforgettable memories with those closest to you on one of the most special days of your life! So have fun with it! With so many different options available these days, there really isn't anything stopping you from creating exactly what you envision for the perfect wedding day look.
Consider a Wedding Planner or Coordinator
A professional wedding planner or coordinator can help alleviate much of the stress associated with wedding planning.
They can provide advice on everything from budgeting to selecting suppliers and venues, making sure that all the little details are taken care of and that nothing slips through the cracks. They usually have relationships with many local suppliers, which means they can help ensure that you get the best deals possible on everything from catering to photography. Plus, if anything unexpected comes up during the planning process—which often happens—your wedding planner will know how to handle it without breaking into a cold sweat.
No one wants to be running around trying to make sure everyone is where they're supposed to be while guests are arriving. By having someone dedicated solely to coordinating everyone's movements throughout the day, you can rest assured that your friends and family won't miss out on any important moments due to miscommunication or confusion. And speaking of communication – they'll often serve as go-betweens with suppliers, so you don't have to worry about any awkward conversations with them yourself – score!
Hiring a professional wedding planner or coordinator is an investment well worth considering when planning your dream nuptials. It may cost more, but in exchange for their services, you get peace of mind knowing that someone else is taking care of all those pesky details while you focus on what really matters – enjoying your special day!
Create a Wedding Reception Seating Chart
Creating the perfect seating chart is quite a task. You want to make sure all of your family and friends are comfortable and happy.
We suggest that when creating your seating chart, think about breaking it up into different categories. Consider age groups, shared hobbies or interests, and any other factors that could help you determine which guests would be most comfortable sitting together.
Once you have determined your categories start by assigning tables to each category, then fill in those tables with names from within each group until all of your guests have been assigned a seat. Mix things up as much as possible and assign guests accordingly!
Send Wedding Invitations and RSVPs
On average, wedding invitations should be sent out 8-10 weeks prior to the date of the big day.
This will allow guests sufficient time to make travel plans while still giving you enough time to handle any last-minute planning details.
Once you've sent out your invitations, it's highly recommended that you follow up with friendly reminders about two weeks before the RSVP deadline is due. This will give guests who may have misplaced their cards an opportunity to send back their replies on time. It's also important that couples include all necessary contact information with each invitation so that guests know exactly how they can get in touch with them if needed.
Finally, make sure that you don't forget about those attending only the evening reception; they should receive separate RSVP cards so they know where they need to be and when they should arrive.
Buy Your Wedding Rings
Before you start shopping for rings, have an idea of what style you would like and what kind of budget you can work with.
Shop around for quality and price. Once you have an idea of the type of ring set that speaks to you, start looking around at various jewellers in your area or online.
Doing some comparison shopping will help you determine which store offers the best quality at the best price. Make sure that any store or seller that you purchase from has a good reputation so that you are getting an authentic product at a fair price.
We suggest taking a few shopping trips together before deciding. Don't feel like you have to decide on the first trip – take your time and enjoy browsing different ring styles. Remember, these are rings that will be worn forever!
The material of your wedding band is just as important as its design. Most rings come in either gold, silver, platinum, or titanium, but there are other options available, too. Consider what metal will look nice with your engagement ring if you already have one; many couples prefer having matching metals for their bridal set.
When it comes down to making a purchase, try not to rush into it since this is a big decision that shouldn't be taken lightly. Make sure the store offers a warranty – many stores offer a lifetime warranty, so take advantage of it if possible! Also, keep in mind that the chosen rings may need resizing.
Set Time Aside to Review Contracts
Don't forget about the contracts!
It's important to make sure that each supplier participating in your big day has a contract in place before you commit to anything. Setting aside time to review contracts may seem like a chore, but it will save you from any unwelcome surprises on your wedding day.
When reviewing these contracts, there are a few key things you should look for: First, make sure that all information on the contract is correct; dates, names, payment amounts etc., so there are no misunderstandings down the line. Next, ensure that all services listed in the contract meet your expectations and are up to par with what they promised when you first hired them. If something doesn't seem right or isn't what was agreed upon during negotiations, don't sign it until it's fixed! Lastly, pay attention to deadlines and payment schedules, so everyone knows when payments are due and when services will be provided.
Confirm Wedding Details with Suppliers
In the last one to two weeks before your big day, you should confirm all the details starting with the venue.
The venue will set the tone for your special day, so it's important to confirm the details. Contact the venue coordinator and ask questions about how many tables and chairs they provide, any additional services you might need, such as linens or decorations, and when you can access the space on the day of the wedding.
Once you have confirmed all of your venue details, reach out to all of your other suppliers (caterer, DJ/band, photographer/videographer). Make sure all contracts are signed, and deposits are paid. Ask questions like what time they plan on arriving at the venue, what type of equipment they will bring (e.g., speakers, lights), and if they need anything from you in advance (e.g., a detailed timeline). This is also a great opportunity to give them any specific instructions that would make their job easier on the day of. For example, let them know who is responsible for setting up tables or where they should park their vehicle so that it doesn't obstruct guests' views during photos.
Finally, go over all of your schedules and logistics with everyone involved in the wedding party (bridesmaids/groomsmen) and family members who may be helping out with anything on the day of (e.g., directing guests). Make sure everyone knows when to arrive at the venue; what time pictures start; when speeches are happening; when dinner starts; etc. This will help ensure that there are no surprises.
Create a Schedule of the Day's Events
Creating a detailed timeline is key in helping you stay organised and ensuring that every detail of your wedding runs smoothly.
Enjoy your big day!
Planning a wedding can be an incredibly daunting task, but when the day finally arrives it can be thrilling.
On this special occasion you should take some time to savor the moment – your vows, toasts from loved ones, and of course spending quality time with all your friends and family. From your dress or tux to the decorations and music, each tiny detail deserves recognition as part of a grand culmination of planning. Enjoy your big day!
Happy Planning!
Photo by Photo by Natasha Fernandez