The Ultimate Hen Party Planning Guide
The Hen Party Planning Guide!
Planning a Hen Party can be a lot of fun, but…
…it can also be daunting if you don't know where to start. There is a lot of work involved when planning hen parties. That's why we created this Hen Party Planning Guide – to help make the process as easy as possible!
This guide includes everything you need to know about how to plan a hen party, from setting a date and choosing a location to booking activities and arranging catering. So whether you're the Maid of Honour or just helping out, read on for all the information you need!
Click the image below! Our Hen Party Guide- Helping you to plan the perfect party. 21 pages, including helpful planning templates.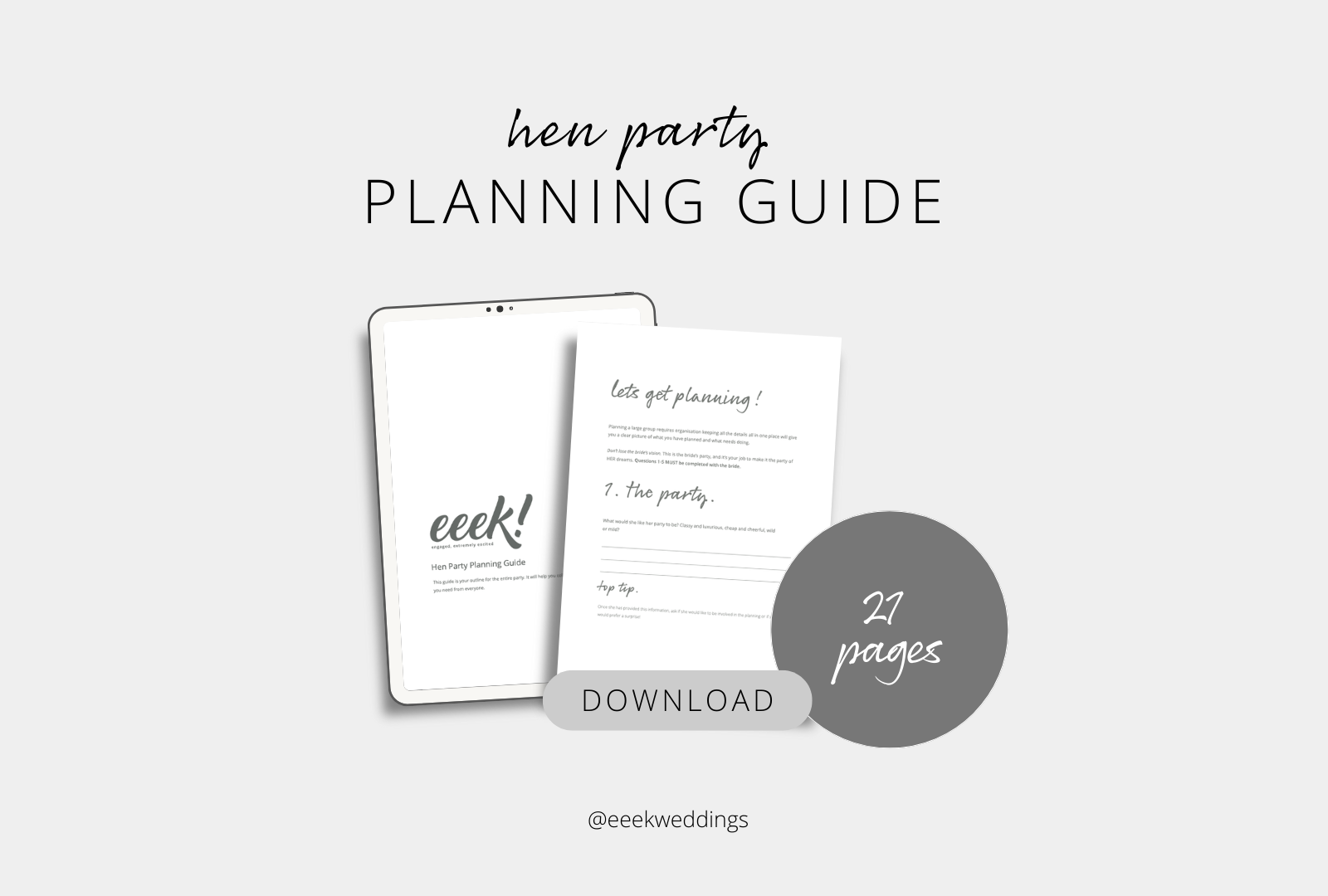 Discover more articles of interest
Maid of Honour Duties: The Ultimate Guide
Bridesmaids Duties: The Ultimate Guide
6 Unique and thoughtful Bridesmaid Gift Ideas
How to Plan a Wedding: A Step-by-Step Guide
Here's what you need to do:
1. The first step is to talk to the bride.
What would she like?
Classy and luxurious, cheap and cheerful, wild or mild? This is her last big night (or weekend) as a single lady, so you want to make sure it's tailored to her taste. Luckily there are many options out there, so make sure to pick something everyone can enjoy.
Top Tip
Once she has provided this information, ask if she would like to be involved in the planning or if she would prefer a surprise!
2. The Guest List
This is totally up to the bride!
It's traditional to invite all of the ladies in your wedding party. The most important thing is that you surround yourself with your closest family and friends and have a good time!
3. Date
Give at least two date options
We all lead busy lives, so you must give at least two date options for guests to choose from. This way, there is sure to be a date that works for all. The Hen party usually takes place 1-3 months before the big day.
4. Location
Are you staying local or venturing away for a hen weekend?
Along with setting a date, you also need to decide on a location. Are you staying local or venturing away for a hen weekend? Does the bride already have a location decided, or does she want suggestions? Once that decision has been made, the next step is the budget.
Top Tip
Assign rooms with the help of the bride (some may prefer to be together, others not so much!) Don't involve anyone else in this conversation!
5. Budget
Having a clear idea of your budget before starting any research is important.
You need a budget to work with before you can look into locations, make table reservations and plan other activities. The budget includes the property rental (if you are having a hen weekend), the activities and the food and drink.
Contact each of the bridesmaids individually
This can be a sensitive subject for some people, so the best way to approach it is to contact each of the bridesmaids individually – let them know the per-person budget that you and the bride have decided upon and ask if that works for them or would they prefer to spend less or are happy to spend more. All budget conversations are private, and at all times, you must ensure you stay within everyone's means.
Hen party expenses:
1. Accommodation
2. Travel
3. Activities
4. Night out
5. Food and Drink
6. Outfits
7. Gifts
6. Communicate
All final decisions can be made together!
Set up a WhatsApp group or plan fun Zoom calls. This will allow you to share all your research and the costs involved. Doing it this way, final decisions can be made together, and no one gets any surprises!
7. Theme
Now it's time to get creative!
Hen Party activities! What kind of activities does the bride love? Is she adventurous, or does she prefer something more low-key? There are endless possibilities when it comes to planning activities, but some popular options include a spa day, wine tasting, cooking class, going to a show or concert, or even just renting out a private room at a bar or restaurant. I'm sure you won't be short of any hen party ideas.
Deciding on what to do is totally up to you and the group if an idea comes up that you know the bride will hate, remove it from the list immediately! Even if it is a popular choice – this is for the bride, after all.
8. Start Booking
Once decisions have been made – start booking
Book accommodation, table reservations, and any activity such as wine tasting or spa treatments as soon as possible! Places get booked quickly, so book as soon as you can to avoid disappointment.
9. Don't forget about the food and drink!
Is there a foodie in the group?
If you are planning a weekend away, you will need to have a meal plan – food ideas that everyone will like. If there are any foodies in the group, ask if they would like to cook and select others to help with the prep.
On a spreadsheet, make a meal plan and then provide each bridesmaid with a list of items they will need to provide. Add a bottle of bubbles to each list!! (When we say bubbles, we mean Prosecco AND sparkling water)
Top Tip
Giving each individual a shopping list and a task means that everyone will muck in, and any possible disagreements can be diverted!
10. The final itinerary, including a packing list
the final itinerary
Share with everyone, including the bride, the final itinerary. This should also include what everyone should have already paid and must pack. Everyone will need the right outfits for the occasion and or activity or activities.
11. Goody bags!
think hangover cures
Every hen party needs some goodies for the guests – think hangover cures, sashes, and Hen party hats!
12. Enjoy yourself!
this is supposed to be fun for both you and the bride-to-be!
12. Most importantly, don't forget to enjoy yourself! Planning a hen party can be stressful, but remember that this is supposed to be fun for both you and the bride-to-be!
Conclusion: Planning a hen party can seem like a daunting task, but with our ten easy steps, you'll have it all sorted in no time! Hopefully, this guide on how to plan a hen party will be exactly what you need. Just remember to ask the bride what she wants, give everyone plenty of notice, set a budget, choose a location and get creative with the theme! Oh, and don't forget the bubbly and goody bags!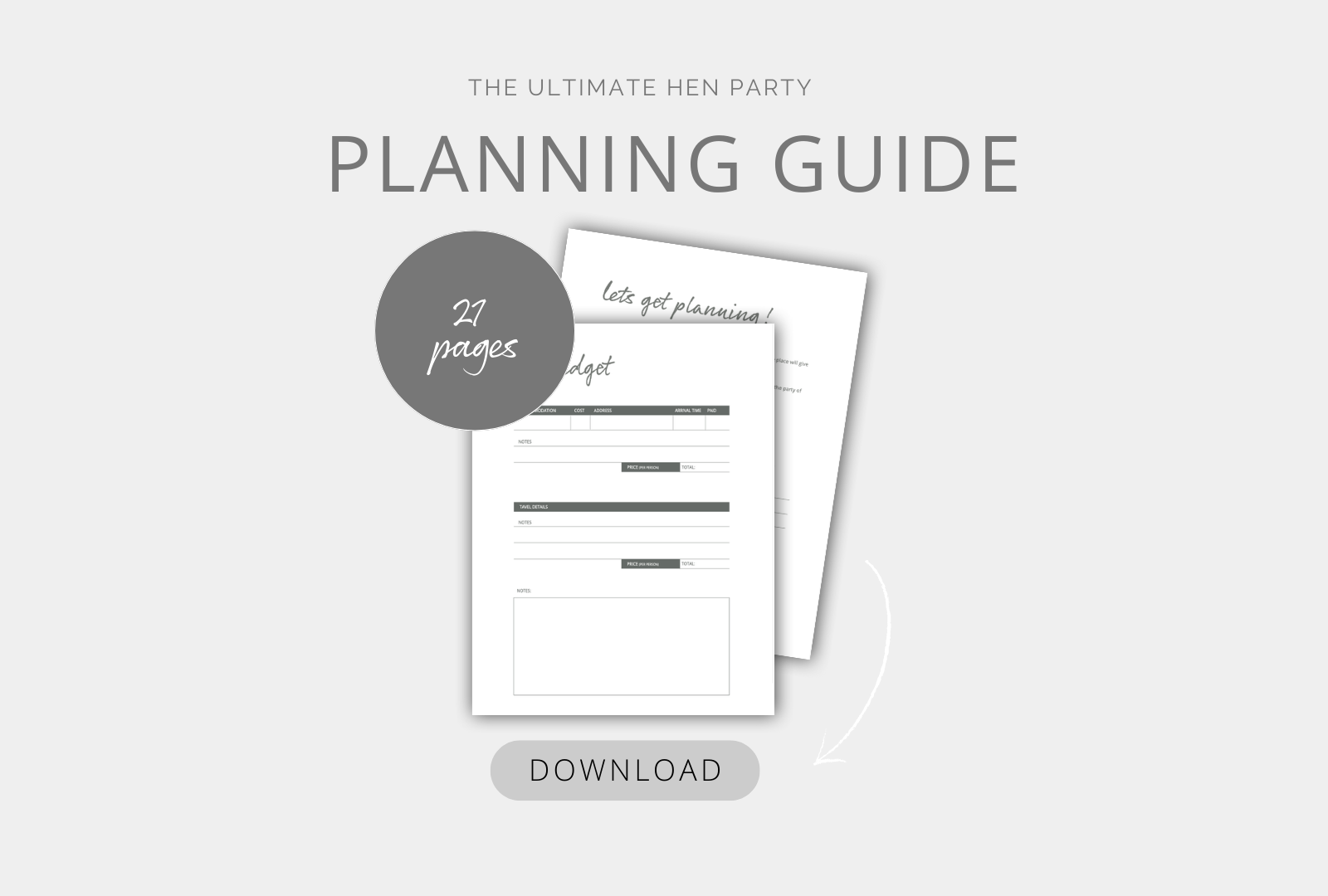 Happy Hen Party Planning!